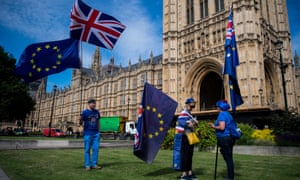 Theresa May has narrowly avoided a humiliating defeat over the Brexit bill after Conservative rebels accepted significant concessions from the government on the "meaningful vote" when it returns to the House of Lords next week.
Just moments before voting began, the prime minister held 11th-hour talks with more than 14 Tory rebels in her Commons office, after which they received personal assurances that she would agree to the broad thrust of their proposals.
One MP in the meeting, which included former cabinet minister Justine Greening and Ed Vaizey said that May told the group it was "a matter of trust".
The Tory rebels, led by the former attorney general Dominic Grieve, later praised the government for "responding positively" to their concerns and claimed that they would be addressed when the EU withdrawal bill goes back to the Lords on Monday.
However, furious Brexiters immediately condemned as unworkable Grieve's plan to hand over control of the government's Brexit strategy to MPs, suggesting that May's attempts to overcome deep Tory splits on the issue was failing.
A Downing Street source claimed that the prime minister had agreed only to ongoing discussions, raising the prospect of an angry showdown when a delegation of rebel MPs sits down with ministers to thrash out a deal.
David Davis's Brexit department cast further doubt over the rebels' claims, issuing a statement which read: "We have not, and will not, agree to the House of Commons binding the Government's hands in the negotiations."
MPs voted by 324 votes to 298 to back the government in rejecting an amendment passed by peers in April that would strengthen the hand of the Commons in the event of it rejecting the final Brexit deal.
Tory rebels, who were numerous enough to have otherwise inflicted a damaging defeat, claimed that they had agreed to vote with the government after May agreed to address ongoing concerns.
The proposals would mean that in the event of parliament rejecting the final Brexit deal, ministers would have seven days to set out a fresh approach. In the case of talks with the EU breaking down, they would have until 30 November to try to strike a new deal.
However, there did not yet appear to be agreement on the final part – clause C – of Grieve's proposals, that if there was still no deal by 15 February next year, the government would have had to hand over the reins to the House of Commons to set its Brexit strategy.
The government climbdown, just hours after Downing Street said it would not compromise further on the…