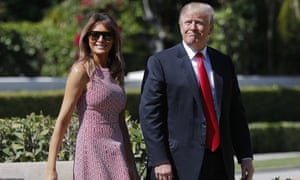 An hour after wishing the world happy Easter, Donald Trump followed up by seeming to call off any lingering hopes of a deal to protect hundreds of thousands of young undocumented migrants who arrived in the US as children.
In a series of characteristically aggressive tweets on Sunday morning, the president announced that a deal to secure status for Deferred Action for Childhood Arrival (Daca) recipients was "NO MORE"; threatened once again to end the North American Free Trade Agreement (Nafta) with Mexico and Canada; and called on congressional Republicans to force through a vote on tougher immigration law.
In his first public appearance with his wife Melania since CBS broadcast an interview with an actor in adult films who says she had an affair with him in 2006, Trump attended an Easter service at a church close to his exclusive members club in southern Florida. The Trumps were married in the church, Bethesda-by-the-Sea, in 2005.
Shortly before the service, the president tweeted: "Border Patrol Agents are not allowed to properly do their job at the Border because of ridiculous liberal (Democrat) laws like Catch & Release. Getting more dangerous. 'Caravans' coming. Republicans must go to Nuclear Option to pass tough laws NOW. NO MORE DACA DEAL!"
Although the president is prone to outbursts on Twitter over unsubstantiated and false claims about immigration, and to U-turns…