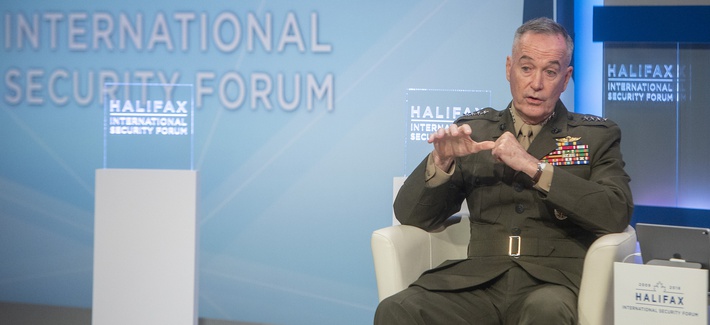 Heres why the Joint Chiefs chairman applauded Greece for welcoming one group of migrants while U.S. troops are helping President Trump stop another.
HALIFAX, Canada – When Cindy McCain handed the inaugural John McCain Prize for Leadership in Public Service to two Boy Scouts from Greece, recognizing their island's generosity to migrants and refugees arriving at their border, Chairman of the Joint Chiefs of Staff Gen. Joseph Dunford was first to stand and lead the Halifax International Security Forum in an ovation.
It was hard not to think of how, at that moment, roughly 6,000 active duty troops are now at the southern U.S. border to provide, essentially, the opposite. President Trump has repeatedly said he sent them to rebuff a group of Central American refugees walking the length of Mexico to seek asylum in the United States. So a reporter asked Dunford to square the two images and explain why he supported the president's order for those who question whether it's a moral action.
"I reject the characterization or comparison," replied Dunford, saying that the troops are simply helping the Department of Homeland Security by providing logistics, helicopter rides to Border Patrolmen, and the like.
"Nothing that we are doing is illegal. I can tell you we looked at that very carefully," he said. "We are not coming in contact with the migrants. Our job is not to deny migrants access to the United States. Our job is to support the Department of Homeland Security in doing their jobs. I think it's important to understand that."
He repeated the same themes Defense Secretary James Mattis expressed during his visit to the border on Wednesday, but it is important to hear Dunford to say this out loud and on the record.
"Border security is part of national security," Mattis said. "Our units are in a position to enable the Border Patrol's law enforcement operations. We determined that that mission was absolutely legal and this is also reviewed by Department of Justice lawyers."
From the moment the troops were deployed, critics have called for Mattis to explain why he backs Trump and believes in the mission, or to resign. On…