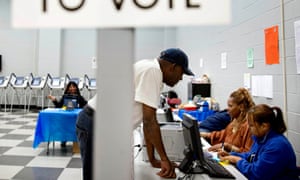 A plan to close most polling places in a predominantly black Georgia county ahead of November's midterm elections is drawing opposition from the state's gubernatorial candidates and voting rights activists, who claim blatant voter suppression.
The two-member local elections board is expected to vote Friday on a proposal to shutter seven of nine polling sites in rural Randolph county, in south-west Georgia, where roughly 60% of the 7,800 residents are black – twice the statewide rate.
"We're very concerned because the racial impact is obvious and they have yet to come up with a good reason for these closures," said Sean J Young, legal director of the Georgia American Civil Liberties Union (ACLU).
The board members have said the voting sites violate federal disabilities law because they are not wheelchair accessible, a defense that cuts little ice with Young.
"You don't help persons with disabilities by removing the number of locations at which they might possibly be able to vote," Young said.
He added that the Georgia ACLU and the county commissioner's office offered to work with the county to solve compliance issues and were not taken up on the offer.