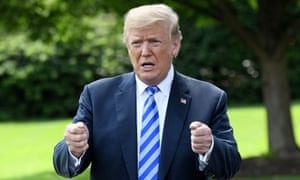 The White House issued a grandiose statement on Monday morning celebrating "President Donald J Trump's 500 days of American greatness".
Trump made a series of claims about his first 500 days in office, celebrating his economic policies, touting his success in adding jobs, and claiming to have made communities safer.
As ever with Trump, many of these boasts are inaccurate or misleading. Here, under his own four main headings, we appraise some of his key 500-day declarations.
'America's economy is stronger … thanks to President Trump's pro-growth agenda'
CLAIM "Three million jobs have been created since Trump took office," booms Trump's news release. He made the same claim at a rally in April.
REALITY What Trump does not tell people is that the rate of job creation under him is actually slower than the last four years under Obama. According to the Bureau of Labor Statistics, 2.188m jobs were added in 2017. Obama added 2.3m in 2013, 2.99m in 2014, 2.71m in 2015, and 2.24m in 2016.
Trump claimed that the unemployment rate has dropped to 3.8%. On Friday, the Bureau of Labor Statistics did indeed report the unemployment rate for May was 3.8%.
But what Trump ignores is that the unemployment rate is declining in part because of large numbers of people leaving the workforce rather than getting jobs. The percentage of workers in jobs or looking for work dropped from 62.9% in March, to 62.8% in April to 62.7% in May. Those levels have not been seen since the 1970s.
CLAIM "American families received $3.2tn in gross tax cuts."
REALITY Trump has been making this claim since 2017, when he signed the Tax Cuts and Jobs Act into law. In fact, the bill delivers $1.5tn in tax cuts – and that number includes cuts that corporations will receive.
The disparity is because Trump does not include aspects of the bill which will actually increase taxes. Factcheck.org pointed out that the non-partisan joint committee on taxation estimates the Tax Cuts and Jobs Act will result in $1.456tn less in taxes over the next 10 years.
…