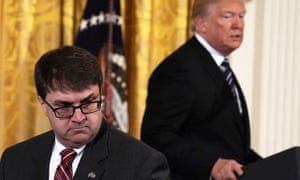 Donald Trump is nominating the acting veterans affairs secretary, Robert Wilkie, to lead the beleaguered department permanently. The former Pentagon undersecretary for personnel and readiness has led the VA since Trump fired David Shulkin two months ago.
Trump revealed his decision during a prison reform event at the White House, and said the decision was a surprise to Wilkie.
"He doesn't know this yet – that we're going to be putting his name up for nomination to be secretary of the veterans administration," Trump said.
Trump previously nominated the White House physician Dr Ronny Jackson for the job, but he withdrew last month after a host of allegations surfaced about his personal and professional behaviour.
Wilkie, 56, oversaw a new Pentagon policy aimed at stemming harassment in the military after an online nude-photo sharing scandal rocked the Marine Corps. He was confirmed unanimously as Pentagon undersecretary by the Senate.
As acting VA secretary, Wilkie has sought to rebuild morale at an agency beset with turmoil and rebellion over…