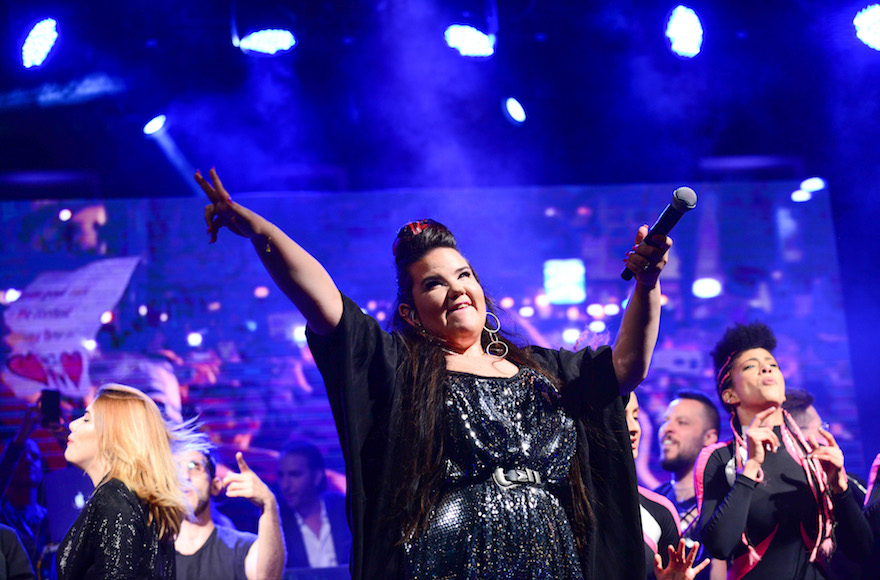 (JTA) — Hours before the Eurovision song contest's kickoff, Rafi Kishon posted on Facebook a sobering message and a picture of himself wearing a head of lettuce for a hat.
Israel's entrant, he said, didn't stand a chance of winning in anti-Semitic, anti-Israel Europe.
"I'm sorry to disappoint you," the Israeli veterinarian wrote in Hebrew on Saturday. Netta Barzilai's "excellent" song could not win Eurovision "because Europe is imbued with bicolored anti-Semitism: The classic Christian anti-Semitism of Holocaust's perpetrators and Muslim anti-Semitism that's striking root" there, he wrote, vowing to eat his own "hat" if he's proven wrong.
Kishon, a political hawk and the son of the late humorist Ephraim Kishon, failed to predict the future: Barzilai's unconventional song "Toy" in fact did win the contest, earning the fourth-highest score in the pan-European song competition's 63-year history. But his prediction nonetheless illustrated how many Israelis apparently overestimate the politicization of Eurovision, the prevalence of anti-Israel sentiment in European societies — or both.
Like the "American Idol"-style song competitions that it resembles, this annual pageant of novelty pop songs, outlandish costumes and sugar-coated nationalism is judged by in-house juries from each participating country and by viewers watching at home.
At this year's contest, Israel would have come in third Saturday if it were up solely to the official juries of the 43 countries that participated. But the juries, which gave Israel 212 points, determine only 50 percent of the scores. Callers gave Israel another 317 points to bring their total to 529 — nearly 100 points more than the next closest contestant, Cyprus.
A breakdown of voting for Israel both by juries and viewers belies any assumption of politicization or anti-Semitic bias.
For example, Israel was the top vote-getter from juries both in France — which many consider emblematic of Europe's anti-Semitism problem — and the Czech Republic, which is a historic and contemporary bastion of support for Israel and Jews in Europe.
And the countries where callers gave the highest number of perfect scores to Israel included France, Azerbaijan — a Shi'ite Muslim nation — and Spain, where Catholic anti-Semitism for centuries has been rife and has more municipalities boycotting Israel than any other country in Europe.
(It might not have hurt that during the contest's final, "Wonder Woman" star Gal Gadot encouraged her nearly 20 million Instagram followers to vote for her fellow Israeli.)
Even though Israel…