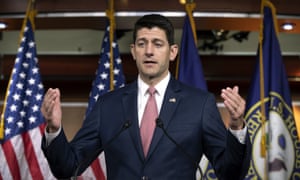 A renegade group of centrist Republicans in Congress are maneuvering around their leadership in an effort to introduce immigration reforms to secure legal protections for young, undocumented people in the United States.
The Republican-led effort follows a failure of Congress to act on immigration reform after Donald Trump cancelled Deferred Action for Childhood Arrivals (Daca), an Obama-era program that extended protections from deportation to nearly 700,000 immigrants brought to the US as children.
Federal courts have ordered the administration to temporarily continue the program while the legal challenges to Trump's decision move forward. The court rulings removed almost all urgency in Congress to act on immigration.
The House speaker, Paul Ryan, said the effort would only produce legislative "show ponies" that would be simply wiped out by the president's veto.
But Ryan did say he wants to see a bipartisan immigration bill pass the House before the November midterm elections that would provide certainty for the so-called Dreamers.
"Going down a path and having some kind of a spectacle on the floor that just results in a veto doesn't solve a problem," he told reporters during a press conference on Thursday.
"We actually would like to solve this problem and that is why I think it's important for us to come up with a solution that the president can support."