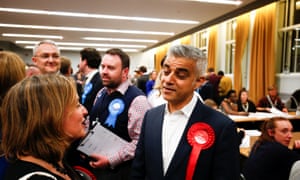 Wandsworth: Labour gains but Tories hang on to crown jewel
A much-touted Labour attempt to wrestle control of Wandsworth – controlled by the Tories since 1978 – was foiled after the Conservatives successfully concentrated resources in key strongholds amid a significantly increased turnout.
However, Labour came close on a night when it gained seven seats on a flagship Tory council that has been known for its low council tax and outsourcing of local services.
The final results left the Tories on 33 seats, Labour on 26 and one held by Malcolm Grimston, a former Conservative-turned-independent who had the largest personal vote of the night (4,002).
Even before the results started to come in, London's mayor, Sadiq Khan, sought to manage expectations when he arrived at the count in south London, where his party had needed to take 12 Tory seats to win outright control.
"Of course we may not win councils but I think winning councillors who are Labour is a fantastic achievement," he said, when it was put to him by reporters that he and other Labour figures had "talked up" the possibility of winning Wandsworth.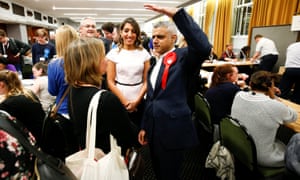 While Labour did make gains at the expense of the Tories, the latter fended off the challenge by increasing its vote to retain control of all seats in wards such as Fairfield, Thamesfield and Southfields.
Ravi Govindia, the Tory leader of the council, said: "The strategy was to take the message to every household, to every door, to every resident and convince them that this was a council that had not run out of steam."
Another story of the night was the irrelevance of explicitly anti-Brexit parties, despite 75% support for remain in the area during the 2016 referendum on membership of the EU.
Both the Liberal Democrats and Renew, a new party seeking to carve out ground in the centre, failed to make any inroads in the Toriy or Labour vote in what was entirely a two-horse race. Ben Quinn