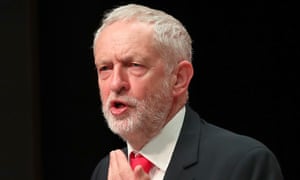 Jeremy Corbyn has defied critics in his own party and warned the prime minister against "rushing way ahead of the evidence" over the Salisbury poisoning, in what he called the "fevered" atmosphere of Westminster.
The Labour leader used an article in the Guardian to urge the government to take a "calm, measured" approach – and warn against the drift towards a "new cold war" with Russia.
Corbyn was criticised by some in his own party on Wednesday for what they regarded as his lacklustre response to Theresa May's announcement of action against Moscow over the poisoning of former spy Sergei Skripal and his daughter, Yulia, with a nerve agent.
The Labour leader doubled down on that cautious approach on Thursday night. "This horrific event demands first of all the most thorough and painstaking criminal investigation, conducted by our police and security services," he said.
"To rush way ahead of the evidence being gathered by the police, in a fevered parliamentary atmosphere, serves neither justice nor our national security."
Corbyn warned against a "McCarthyite intolerance of dissent" over Russia. "Labour is of course no supporter of the Putin regime, its conservative authoritarianism, abuse of human rights or political and economic corruption," he said.
"However, that does not mean we should resign ourselves to a 'new cold war' of escalating arms spending, proxy conflicts across the globe and a McCarthyite intolerance of dissent."
Corbyn backed May's decision to expel 23 diplomats, but suggested a financial crackdown on Russian oligarchs would be more effective.
"We agree with the government's action in relation to Russian diplomats, but measures to tackle the oligarchs and their loot would have a far greater impact on Russia's elite than limited tit-for-tat expulsions," he said.
The shadow chancellor, John McDonnell, also pledged to "hammer" money-laundering, saying that would be a more effective weapon against Vladimir Putin's regime than expelling diplomats.