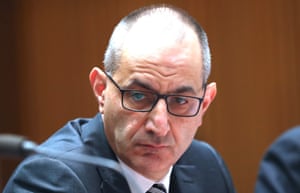 Earlier this week, head of the home affairs department, Mike Pezzullo, confirmed Canberra's worst kept secret – the government will cut the 2017-18 migration program by around 20,000 from the "ceiling" of 190,000. On the basis of the data available, the bulk of the cut will be through the skill stream which makes up about two-thirds of the program.
It is remarkable for a Coalition government to cut skilled migration during an upswing in the economy. It's certainly not something Menzies or Holt ever did. The John Howard government significantly increased the skilled intake when the Australian economy surged from around 2001.
But more interesting are the different explanations for the cut and the question of who will be taking the credit.
Pezzullo tried to suggest at Senate estimates the shortfall may be due to more stringent visa checking using new linked systems and that such checking can cause additional delays.
Increased use of system alerts to identify visa applications and issues that require additional investigation has been a long-standing priority for Australia's immigration authorities. But from one year to the next, these lead to a tiny increase in the visa refusal rate, hardly 20,000. Linked systems will help to resolve issues more quickly as often as they lead to further delays.
In other words, Pezzullo was clutching at straws.
Under Pezzullo, visa processing service standards have already increased to over 12 months for most permanent visa types. For partner visas (eg people who are married to an Australian and for whom the law does not allow the government to limit the number of visas issued), visa processing times often exceed 30 months. How much further is he suggesting visa processing times will increase to explain a cut of 20,000 visas?
Australian immigration authorities are more than capable of delivering the program on target without any additional risk to visa integrity or national security. They would only deliver the program 20,000 below the "ceiling" if Dutton had instructed them to do…