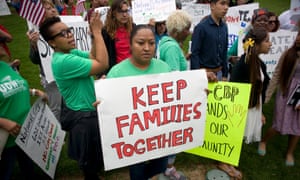 In March, John Kelly, then the homeland security secretary, expressed his belief that separating migrant families – forcibly taking children away from their parents in this country and at the US-Mexican border – would serve as an effective deterrent to undocumented immigration. In April, the New York Times reported that of the more than 700 children seized from their parents during the previous six months, more than 100 were under the age of four.
In early May, the attorney general, Jeff Sessions, announced that the justice department's newly tough "zero tolerance" policy would prosecute every person – even asylum seekers, even small children – crossing the border illegally. Last month, Steven Wagner, an official with the department of health and human services, told a Senate committee that his agency had "lost track" of 1,475 immigrant children who had been seized after crossing the US-Mexican border; some of these kids, it was feared, had been turned over to human traffickers. The ACLU and the Human Rights Clinic at the University of Chicago Law School have also charged that US border guards beat and abused migrant children, and threatened them with sexual violence.
The press has featured wrenching stories and photographs of children, some of them very young, being taken from their families. A Congolese asylum seeker and her daughter were kept in separate detention facilities for four months. In April, the ACLU reported that a Honduran mother had been separated from her 18-month-old toddler for two months. We've seen images of children caged in cells like stray puppies at a shelter; children huddled on cots under thin Mylar blankets; of weeping parents embracing their terrified children while immigration officers wait to grab the tearful kids.
According to a recent story in the Houston Chronicle, children as young as 18 months have been deported without their parents. A woman whose husband was killed by gangs in El Salvador saw her 13-year-old son taken away at the US border – and officials refused to tell her where they were holding him.
Do we believe that these parents love their children less than we do? Can we not envision these horrors happening to our kids? Do we imagine that these toddlers are less frightened, confused and heartbroken than our children would be if they were ripped from our arms by strangers in uniform? Do we not worry that the effects of this trauma may continue to damage these children (and their parents) for the rest of…