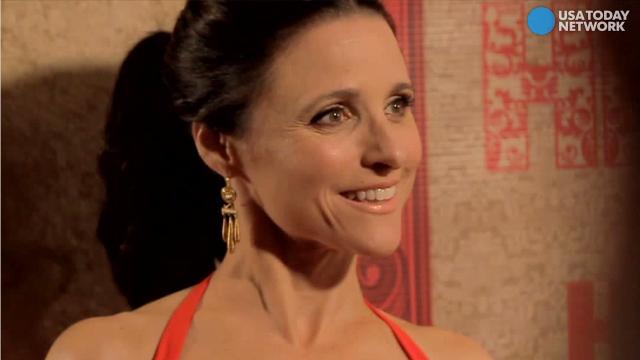 Julia Louis-Dreyfus announced she has been diagnosed breast cancer. The Emmy Award-winning actress shared the news on Twitter. She thanked her friends and family for their support and called on others to help "make universal health care a reality." Wochit
HBO's vulgar, straight-shooting political comedy Veep has covered a lot of ground across its six seasons in a fast-changing political and cultural climate.
In its seventh and final season, the show starring Julia Louis-Dreyfus — returning to her starring role as the foul-mouthed, would-be president after undergoing treatment for breast cancer — returns to the place where all politics-obsessed narratives must: Iowa.
The season's first episode, "Iowa," opens with a moment exemplary of the show's ethos and hysterical messiness. Embarking on yet another ill-advised run at the presidency, Louis-Dreyfus' Selina Meyer attempts to get her "New. Selina. Now." campaign off the ground with a triumphant plane landing in Iowa.
In an extremely relatable turn of events, Meyer finds her plane landing in Cedar Falls instead of Cedar Rapids, where the crowd has been called to meet her. Executive Producer David Mandel has said that this moment was based off a real mixup that the Obama campaign once made.
Over the first three episodes aired this season, Meyer's campaign and her…