After four years on the Brandeis women's fencing team, this senior eyes a career in political research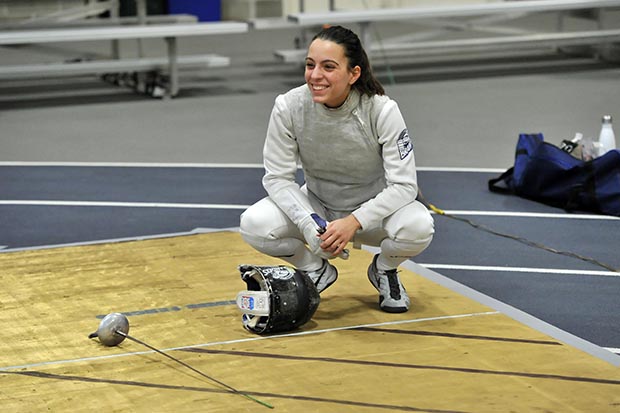 Judges fencing captain Joanne Carminucci '19 recently completed her final season on the varsity women's team. The senior foilist helped the Judges capture this year's New England Collegiate Championship and was also the individual Northeast Fall Collegiate Champion.
When she's not on the fencing strip, the politics and economics double major from Brewster, New York is likely working with professor Jill Greenlee on research related to political and gender socialization in children.
BrandeisNOW caught up with Carminucci to learn more about her fencing and her academic work on campus:
Did you think you were going to fence in college from the beginning?
When I was just 11 or 12, when I was just starting out, my original club had some posters and info sheets around the club saying "These colleges have fencing teams!" That was something they promoted. So even at that age, I was thinking that, "Oh yeah, that'll help me get into college, it'll be a really good thing."
When I started looking at schools, there were only two schools that I was really interested in fencing for and Brandeis was…