<![CDATA[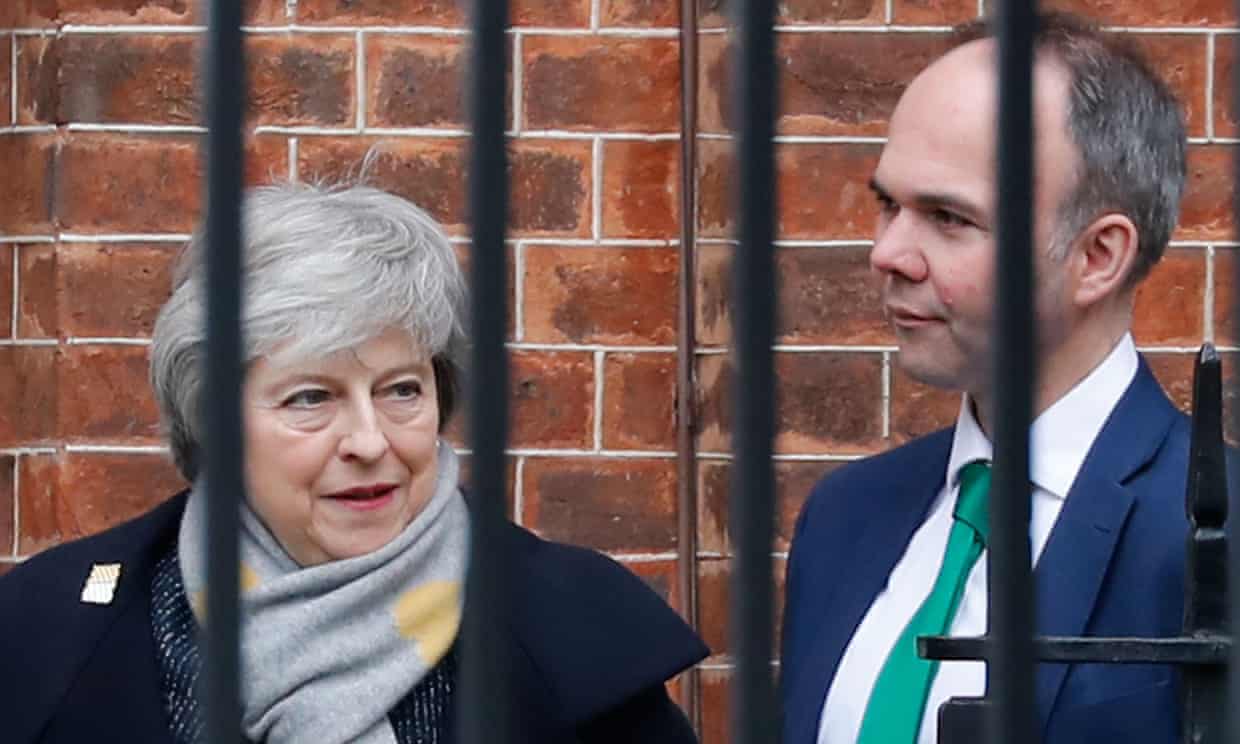 Inside the No 10 bunker, there has been heated discussion about whether a snap general election fronted by Theresa May remains a possibility.
But with the Conservatives plunging below Labour in the polls this weekend and the party's split over Europe looking increasingly irreconcilable, there are growing warnings from Tory grandees that even entertaining such a course of action is deeply unwise.
"It was certainly being tested," said one Downing Street adviser. "Some people weren't exactly arguing in favour, but were saying it could be the least worst option."
Stephen Parkinson, May's political secretary and a former Vote Leave organiser, and Robbie Gibb, the Downing Street director of communications, were named as the main voices considering whether to take May's deal to the people. But a No 10 source denied in the strongest terms that Gibb in particular was in favour of such action.
Suspicions that May is considering a snap poll were raised by her address to the public from No 10 lambasting parliament for frustrating Brexit, and money was spent on Facebook advertisements promoting her message.
Speculation was then dampened again by May's promise to stand down if her deal was passed, with Conservative MPs reassured that she could not possibly lead a general election as a "lame duck" who had signalled that she was ready to hand over to a colleague for the second phase of negotiations.
But then the opinion resurfaced again in No 10 that she could carry on in power for longer by taking her deal to the public, pitching the Conservatives as the party of Brexit against a Labour party that would argue for a softer Brexit and only with a second referendum.
May's decision to call a third futile vote on her deal last week then looked like an attempt to portray Labour as voting against the withdrawal agreement on 29 March – the date that would have been Brexit day.
One of the arguments is that the threat of a snap election is a useful tool to frighten some more Eurosceptic MPs into voting for May's Brexit deal, but a small contingent in No 10 still think there is a genuine chance that she could win.
There is also the possibility that the party could be plunged into a general election by accident if May's government falls in a vote of no confidence and parliament is unable to find an alternative leader with a majority within 14 days.
However, over the weekend, May was quickly confronted with warnings that the Tory party is in no way ready for an election, in terms of money, organisation, the backing of her own MPs or support in the country.
In no uncertain terms, the prime minister has been told by senior Conservative party figures that it would risk "annihilation" and Jeremy Corbyn being installed in No 10.
This…