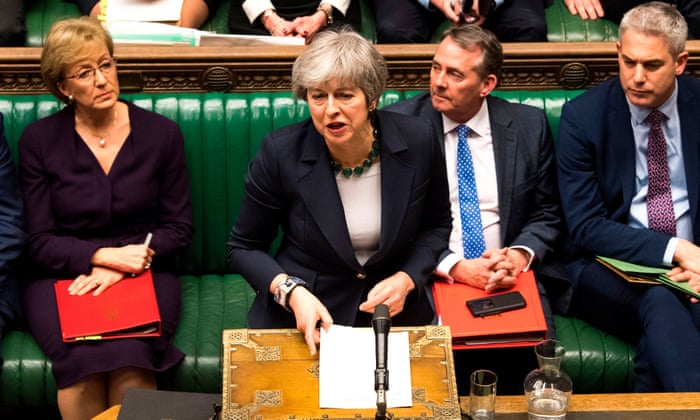 In the Commons Sarah Wollaston, the former Tory who is now an Independent Group MP, acknowledges that her second referendum amendment may fail today. But if it does, they can bring it back, she says.
She says MPs in favour of the idea should vote for it today, because the Labour front bench may never get round to supporting it, she says.
But she also signals that she will bring it back and put it to a vote again next week.
In Washington, during a photocall with the Irish prime minister, Leo Varakdar, the US president, Donald Trump, said that he was surprised "how badly" Brexit had gone. "I think it could have been negotiated in a different manner," he said.
Trump also said he did not think a second referendum on Brexit would be possible because it would be "unfair".
Trump criticises May's handling of Brexit, saying he is surprised "how badly" it has gone.
In the Commons debate Ian Blackford, the SNP leader at Westminster, accused Labour of cowardice for refusing to back another referendum. He said:
And the Tory Brexiter Sir Christopher Chope said he would "seriously consider" the issue if Labour brought forward a motion of no confidence in the government.
The DUP leader, Arlene Foster, has signalled her party is ready to do a deal to end the Brexit impasse, saying that the prime minister must prove only that the constitutional integrity of the UK would be preserved, my colleague Jessica Elgot reports.
Nicola Sturgeon has increased the risk of confusing Scottish voters, and her own activists, over her competing strategies in backing a second Brexit referendum and a fresh independence vote.
She implied on Sky yesterday she was close to calling for a second independence referendum, because she has a mandate to stage one since the SNP won the most seats in the 2016 Holyrood and 2017 UK elections, and did so on a promise of holding a fresh independence vote if there was a material change in circumstances (in other words, Brexit).
Interviewed by Adam Boulton, she said she needed to wait until the current Brexit chaos was over before setting out her plans:
Note the use of the word "how". She did not say "whether" or "if" she wants to use the mandate. The SNP wanted that message heard: it tweeted out that interview to its 220,000 followers. But there's a significant timing problem here, which senior figures in her party are well aware of.
She can only exercise that existing mandate before May 2021 – the date of the next Holyrood elections. (The SNP say their primary mandate derives from the Scottish parliament.) And time for that is rapidly running out: the optimum time for a referendum would allow a year to elapse before another election. To hold one by May 2020 means she would need to win Westminster's approval (highly unlikely to be granted), pass referendum legislation and allow six months for the campaign, in little more than a year.
Yet on Thursday she said she actually wanted to see article 50 extended and then a second EU referendum, telling first minister's questions: "Let's get no deal properly off the table; let's seek a lengthy extension to allow this issue to go back to the people."
That appeals to a large number of independence-sceptic moderate and centre-left Scottish voters: many more back EU membership than…