ALBANY – After Gov. David Paterson's surprise appointment of second-term U.S. Rep. Kirsten Gillibrand to fill Hillary Clinton's U.S. Senate seat on Jan. 23, 2009, the New York Times helpfully phoneticized her name for its readers: "JILL-uh-brand."
In her remarks, Gillibrand, who had learned at 2 a.m. that morning that she had been selected over several more prominent contenders, acknowledged that she was unknown to much of the state. But she vowed to "bring upstate and downstate together, to work on behalf of all New Yorkers."
Never again would New York's Democratic establishment underestimate Gillibrand, a political novice and centrist from the Hudson Valley with a record of conservative congressional votes on gun control and immigration.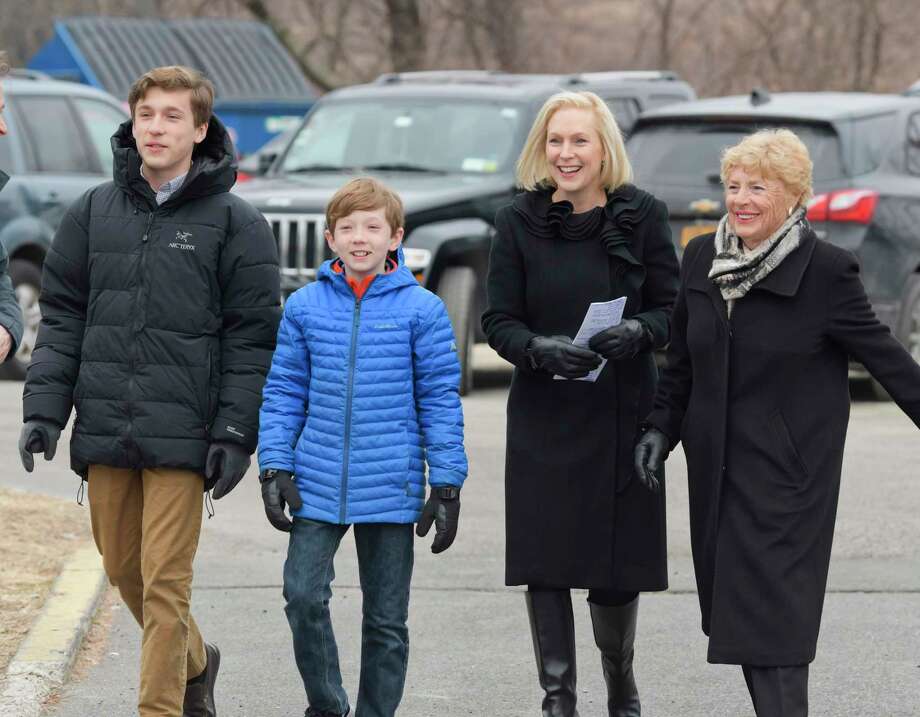 Now Gillibrand is seeking the Democratic nomination for president, and she is as much an unknown to the nation as she was to her state a decade ago. Her long shot White House hopes surely rest on beating the odds, as she has before.
Second of two parts
Kirsten Gillibrand is the Capital Region's first major-party presidential candidate in more than a century. This is a look at the Albany native's political journey through Congress. Read the first installment about her political roots here.
In 2006, she pulled off a major upset in her bid to unseat well-connected Republican incumbent U.S. Rep. John Sweeney in a GOP-dominated district, and she easily defeated her Republican challenger two years later.
That race "certainly raised people's estimation of her toughness," said David Catalfamo, a political strategist who worked for Republican challengers in three unsuccessful congressional campaigns against Gillibrand.
Leading up to those races, as a relative newcomer to New York politics, Gillibrand shrewdly disarmed her critics, including a skeptical media, and adapted her views to fit her statewide office, quickly becoming a powerful force in the Democratic party.
Party officials quickly took note of Gillibrand's remarkable fundraising prowess. Ahead of a potential primary against more seasoned politicians in 2010, she had nearly $300,000 in the bank, and the ability to drum up millions more. No Democrat challenged her, and she easily beat her Republican opponents in the general elections.
Before the #MeToo movement boosted national awareness of the issue, Gillibrand led the charge against sexual misconduct. She put a spotlight on sexual violence in the military and on college campuses and criticized members of her own party — former President Bill Clinton and now ex-U.S. Sen. Al Franken – for their behavior.
Last month, she kicked off a distinctly feminist 2020 presidential campaign at Country View Diner on Route 7 in Brunswick, where she and her husband own a residence.
In her prepared statement at the diner, Gillibrand touted the values she says have remained constant since she was first elected to Congress, including investment in education and "Medicare for All," promising to "fight for your children as hard as I fight for my own."
It was those core values, she says, that enabled her to twice triumph in a congressional district with a significant Republican enrollment edge, and as a senator representing one of the nation's most-liberal states.
Political observers say her evolution may be sincere, but Gillibrand will have to more sharply hone her message in a crowded field of 2020 Democratic presidential candidates.
"Sen. Gillibrand has a good sense of the political moment most of the time. When she represented a conservative district, she was conservative. When she represented a liberal district, she was liberal," said Rebecca Katz, a progressive political strategist. "I believe she has evolved on the issues, which is a good thing, but she has given her critics reason to be skeptical."
In the House, Gillibrand joined the Blue Dog Democrats, a coalition of mostly Southern, fiscally conservative Democrats.
She had campaigned against amnesty for undocumented immigrants, for fiscal restraint and for protecting gun rights, and her House votes reflected those views. She expressed support for making English the official language in the U.S. and was among four Democrats opposed to states offering driver's licenses to illegal immigrants.
In 2008, Gillibrand co-sponsored a bill that would have repealed several of the District of Columbia's municipal gun laws, legalized semiautomatic assault weapons, and prohibited the D.C. Council from enacting future gun-related legislation.
When she broke from her Democratic colleagues, she was eager to explain herself.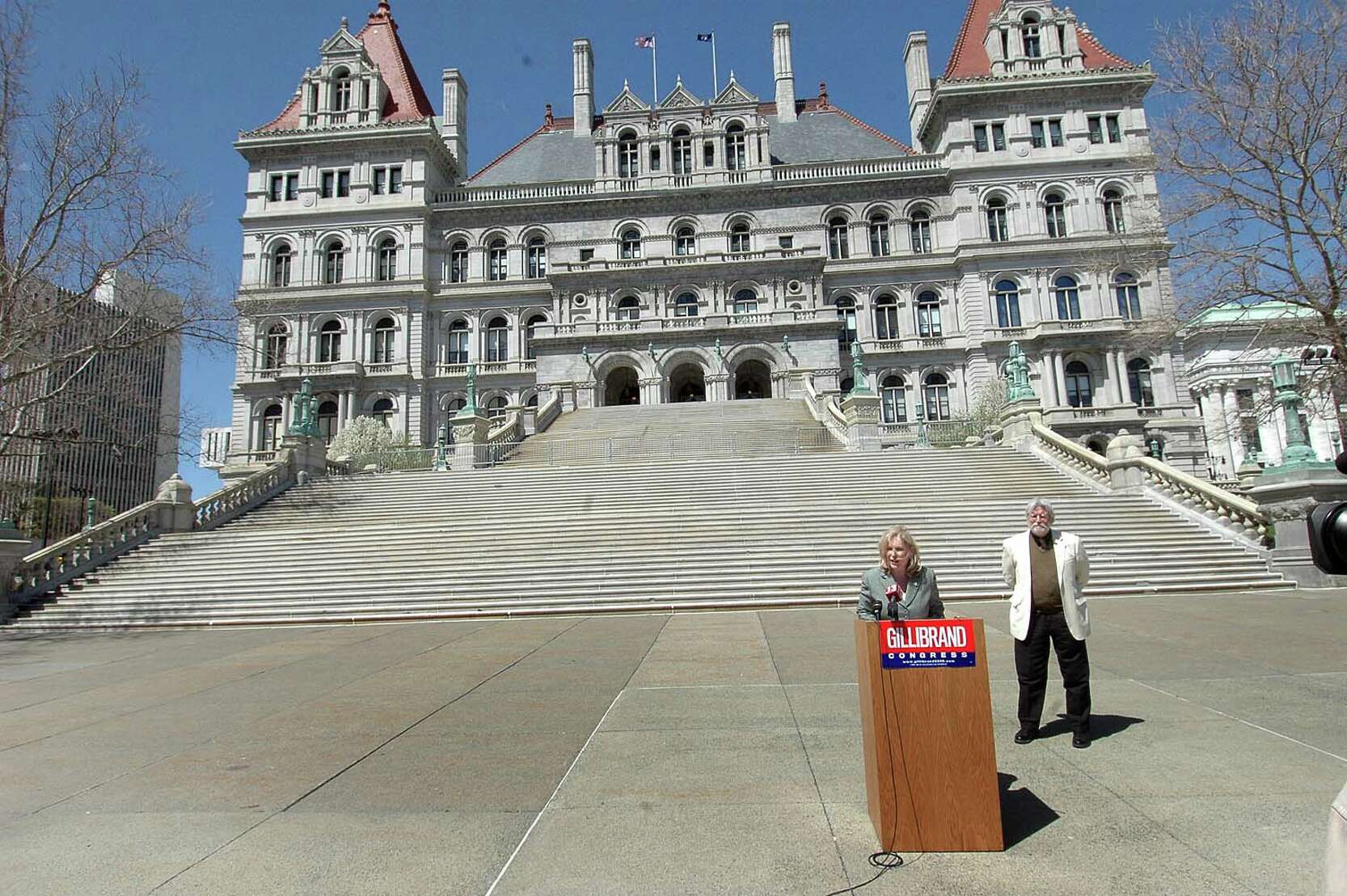 Political consultant Morgan Hook, who was a news producer for Albany's CBS6 at the time, recalled interviewing Gillibrand about voting with Republicans against a Democratic bill that would fund U.S. efforts in Iraq.
"She didn't want to shy away from it. She wanted to talk about it," Hook said.
During her 2008 House race against Republican Alexander "Sandy" Treadwell, his campaign team unearthed details of her history at the prestigious law firm of Davis Polk & Wardwell, which they thought would be embarrassing: She had helped defend tobacco giant Phillip Morris. Gillibrand acknowledged that work, but pointed to her anti-tobacco record in Congress.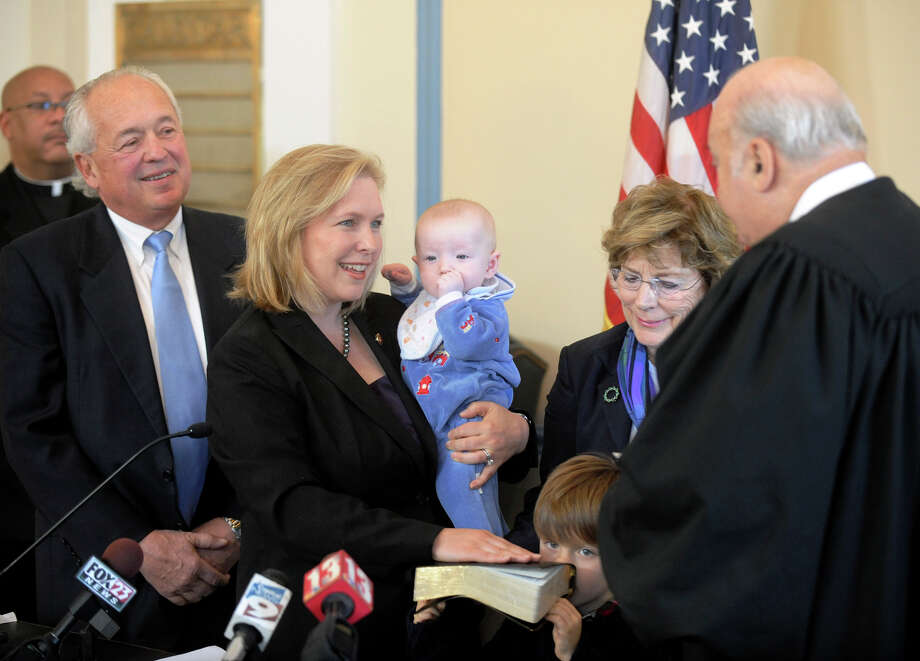 Some of the conversations that Paterson had leading up to his decision to appoint Gillibrand to Clinton's seat are revealed in his gubernatorial papers, since donated to Columbia University's library.
His preferred candidate for the seat was Caroline Kennedy, but she dropped out of the running as Paterson's deadline to make an appointment neared. The governor considered appointing a caretaker — possibly himself — to hold the seat until the next election. But he looked again at Gillibrand, who, while lesser known than other members of Congress on his short list, was popular upstate, which would boost the Bronx-based Paterson's own planned reelection prospects.
He later referred to a comment Gillibrand made during the interview process, in which she offered him advice on a "Saturday Night Live" skit that mocked his blindness. Her advice that he use the occasion to speak out on behalf of people with disabilities, Paterson said, cemented his decision.
"I was very touched at how she made me feel as a human being, and I thought, that was one area that I didn't know about her — I knew she was smart, I knew she spoke well, I knew she worked hard, I knew she could win because she got Republican votes," Paterson later told reporters.
She wrote in her 2014 autobiography that, during the interview, he told her, "You know, throughout this process, I have heard the nastiest things about you and you have reflected none of that. That makes me like you even more."
He denied choosing Gillibrand based on gender and geography, though his papers indicate that it was a factor.
Paterson, who relied on support from LGBTQ groups, instructed Gillibrand during his late-night phone call informing her of his decision to contact two prominent activists and assure them she would support same-sex marriage. Previously, she had expressed support only for civil unions. It was the first of several steps Gillibrand would take to modify her views to fit her new role.