The Washington Post would like you to know that the new Democratic majority in the House of Representatives has degenerated into open gang warfare, and that they'll be very lucky if they all come out of all this success alive. Just read this account of the "explosion" of bloody mayhem.
House Democrats exploded in recriminations Thursday over moderates bucking the party, with liberal Rep. Alexandria Ocasio-Cortez threatening to put those voting with Republicans "on a list" for a primary challenge. In a closed-door session, a frustrated Speaker Nancy Pelosi (D-Calif.) lashed out at about two dozen moderates and pressured them to get on board.
"We are either a team or we're not, and we have to make that decision," Pelosi said, according to two people present but not authorized to discuss the remarks publicly. But Ocasio-Cortez (D-N.Y.), the unquestioned media superstar of the freshman class, upped the ante, admonishing the moderates and indicating she would help liberal activists unseat them in the 2020 election.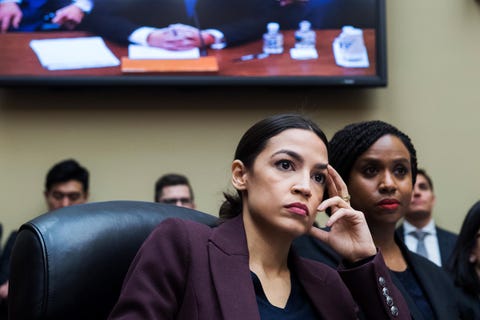 Triggering the blowup were Wednesday's votes on a bill to expand federal background checks for gun purchases. Twenty-six moderate Democrats joined Republicans in amending the legislation, adding a provision requiring that ICE be notified if an illegal immigrant seeks to purchase a gun.
We all should be accustomed by now to the Dems In Disarray template. (Note the perpetual binary by which the caucus is divided into "liberals" and "moderates." Conservative Democrats apparently do not exist.) But the apocalyptic prose here has been dialed up to 11.
The Democratic infighting reflects a fractured caucus and diverse freshman class, with dozens of moderates elected in districts that President Trump won in 2016 at odds with hard-charging liberals. The split has exposed divisions among Pelosi and her top lieutenants, Majority Leader Steny H. Hoyer (Md.) and Majority Whip James E. Clyburn (S.C.), over the party strategy to keep its newfound majority.
Republicans have capitalized on the divide, using legislative tactics to split politically vulnerable moderates from the party leadership. In the coming months, votes on health care,…