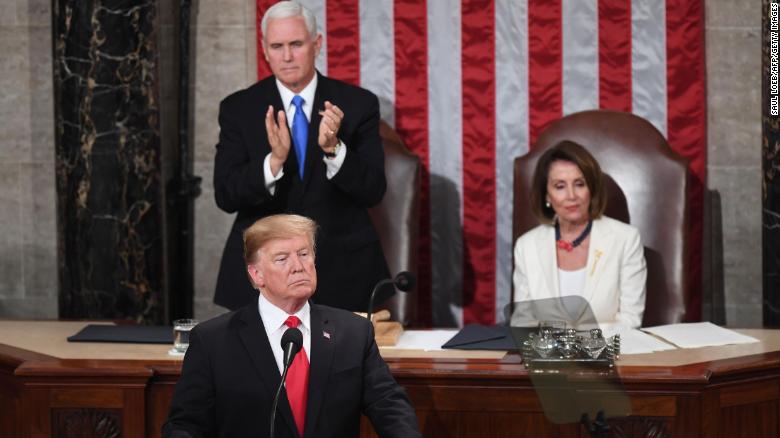 (CNN)America could be sliding toward a new government shutdown and President Donald Trump may face a fateful choice over his border wall as another knife-edge week opens in Washington.
Democratic and Republican negotiators last week seemed to be on course for a deal to fund the government and boost border security short of paying for a wall, and it seemed possible that Trump might grudgingly sign on.
But the talks ground to a halt over the weekend in a dispute over limits demanded by Democrats on the number of places available in detention centers used by Immigration and Customs Enforcement operations away from border areas.
The disagreement appeared to dash hopes that a deal could be reached by Monday to allow each chamber of Congress plenty of time to pass legislation well before a Friday deadline.
"I think the talks are stalled right now," said Alabama Sen. Richard Shelby, the top Republican on the 17-member conference committee on "Fox News Sunday."
If no deal is reached and no stop-gap spending measure emerges, a new government shutdown could be triggered, again subjecting 800,000 federal workers who could be furloughed or asked to work without pay.
The most recent shutdown, which was the longest in history, ended last month in victory for Democratic House Speaker Nancy Pelosi — who refused to fund the wall — and with a damaging political defeat for the President in their first significant clash since the midterm elections.
The unpredictable Trump could rattle the effort to avoid a second shutdown when he heads to El Paso, Texas, on Monday for his first political rally of the year — a context which seems unlikely to see him offer flexibility on the notion of building a wall.
Sudden pessimism over the conference talks between Democrats and Republicans in the Senate reflected the uncertainty and raw political nerves on Capitol Hill at the dawn of a new era of divided government.
It also reflected the excruciatingly tough task of seeking compromise on immigration policy, an issue with visceral power for both parties and which is almost an existential issue for the presidency of Trump.
Even if it turns out that the weekend's hiccup is just a typical Capitol Hill delay en route to a deal, it could precipitate even more uncertainty, since the compromise is certain to fall short of $5.7 billion in money Trump has demanded for his wall.
In that scenario, Trump would again face a choice between climbing down on the central issue of his 2016 campaign and alienating grassroots supporters and conservative pundits or refusing to sign a bill passed by Congress.
If he digs in, the President could spark a new partial shutdown for which he would again risk being blamed.
Last week, Shelby had fueled optimism for an agreement after visiting Trump to update him on the process.
But on Sunday, he was more downbeat when asked if hopes of an agreement on Monday were realistic.
Two senior Republican aides told CNN that the cap demanded by Democrats on internal enforcement beds would force ICE officials to make impossible decisions about which immigrants…