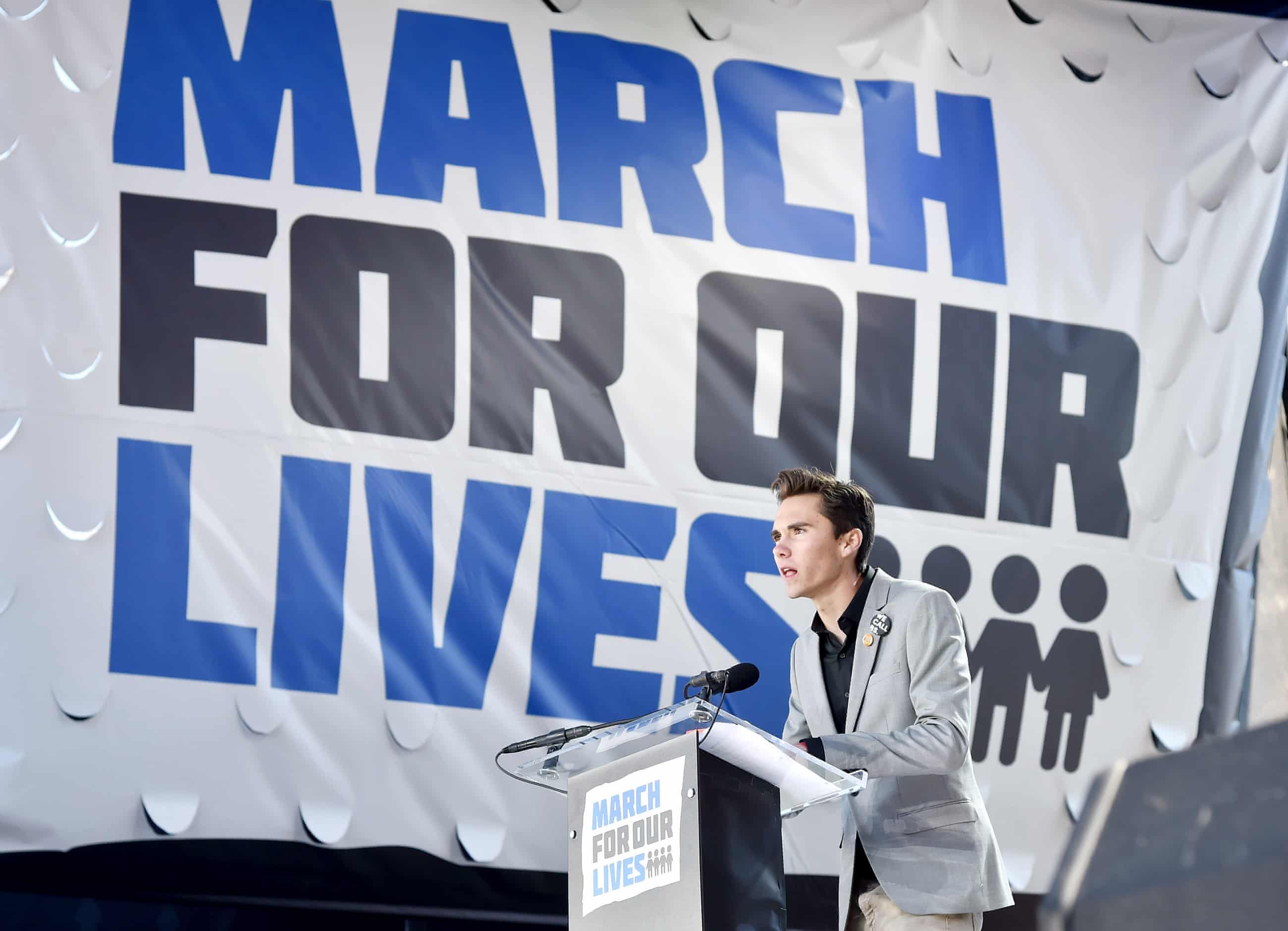 David Hogg grew an inch over the past year. He notices it when he squeezes his lanky, now 6ft 1in frame into another airplane seat and struggles to fall asleep. Hogg is often on the road now.
A year ago, at age 17, he was interviewing and filming his classmates as they hid in a closet from the gunshots they had just heard on their Parkland, Florida campus. Now, the 18-year-old and a small group of his friends have become internationally recognized gun violence prevention activists. For nine months after a shooting at their school left 17 students and teachers dead, the founders of March for Our Lives fought nonstop to vote out National Rifle Association-backed lawmakers, criss-crossing the country to hold rallies and voter registration events, as well as to build connections with veteran gun violence prevention activists in cities like New York and Chicago.
Today, Hogg and the other students who first spoke out after the Parkland shooting are focusing on the quiet, unglamorous work of grassroots organizing. The group is training eight regional directors to help build out their March for Our Lives local chapters. They want to prepare for the 2020 presidential election by expanding the national reach of their youth voter registration and turnout operation.
Yes, some of the teenagers are making plans to go to college next year. Yes, they are dealing with grief and exhaustion and backlash. They have had to learn to set some boundaries for the work they are doing, as well as learn how to weather brutal political losses. November's election saw longtime allies of the National Rifle Association win tight races for governor and US senate in Florida, the Parkland students' home state. By early January, a Republican legislator in Florida had filed a bill attempting to repeal the few compromise gun control measures the state had passed after the Parkland shooting.
But the students who inspired national school walkouts last spring to protest government inaction on gun violence have seen enough progress that they want to keep fighting. Youth voter turnout nationwide spiked ten percentage points to an estimated 31% in 2018: still low, but the highest midterm election rate in decades. At least some of that increase is likely due to March for Our Lives' months of protests and get-out-the-vote efforts.
"One of my goals in the next two years is to get 71% youth voter turnout in 2020," Hogg told the Guardian in a recent phone interview. Just under 50% of voters 18-29 voted in the 2016 presidential election.
Why choose 71% as a goal?
"I like the way the number looks," he said. "I think it's a good goal that's going to be hard."
On the other hand, he said: "I think there's a lot of people that, quite frankly, really, really, really hate our president."
There's no big election to organize around in 2019, but that does not mean there isn't urgent work to do, the group's new director of outreach said.
"I think this is the year of building," Jackie Corin, an 18-year-old senior at Marjory Stoneman Douglas and one of the group's founders, said. "We're not stopping, we're not looking at it as an off-year."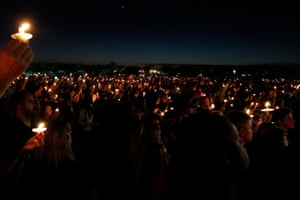 Mobilizing young people
March for Our Lives currently has nearly 200 local chapters across the country. By 2020, the group is hoping to "double that, or even more", Corin said.
When Hogg has asked politicians for advice on how "to get change as quickly as possible," he has been advised that it's necessary to work both inside and outside the system. He is already talking about running for Congress as soon as he turns 25. If there are still politicians touting endorsements from the NRA after 2025, Hogg said, he would like to campaign against one of them.
"If there was a Democrat that had an A rating from the NRA, I would totally try to primary them out."
He's only one of the young activists who is now considering a career in politics. Corin, who has been organizing logistics for the group's nationwide bus tours and local partnerships while also trying to finish high school, is also thinking about elected office.
National media interest in the Parkland movement peaked and then faded last spring after the students organized their first major event, the March for Our Lives in Washington, which drew hundreds of thousands of protesters in the nation's capital, and at least 1 million protesters at 800-plus sister marches worldwide. By then, the Parkland activists were already making a conscious effort to convert their viral social media presence into the only kind of currency that can truly challenge the power of the National Rifle Association: not money, or media attention, but turnout.
Working with young gun violence prevention activists from across the country, the Parkland made a bet this past spring that local organizing – and more local news coverage – could make a difference in the 2018 midterm elections. Over the summer, the March for Our Lives activists traveled on a bus tour to dozens of states to host rallies and voter registration drives, all with the goal of increasing youth voter turnout in the midterm elections. They also sent a separate delegation of activists touring across Florida, which saw an even higher spike in youth voter turnout in November. Statewide, 37% of young Florida voters participated in the election, a 15-percentage-point increase the Associated Press reported, with especially high youth turnout in cities with large populations of college students.
While March for Our Lives cannot take sole credit for the 10 percentage point jump in youth voter turnout in the 2018 midterms nationwide, the students certainly deserve some of the credit for a "really impressive" achievement, said Jessica Morales Rocketto, the political director of the National Domestic Workers Alliance, and a former digital organizing expert for the Clinton and Obama presidential campaigns.
"If that's in your first [election] cycle, what can happen in your second, third, four, fifth cycles?" she asked.