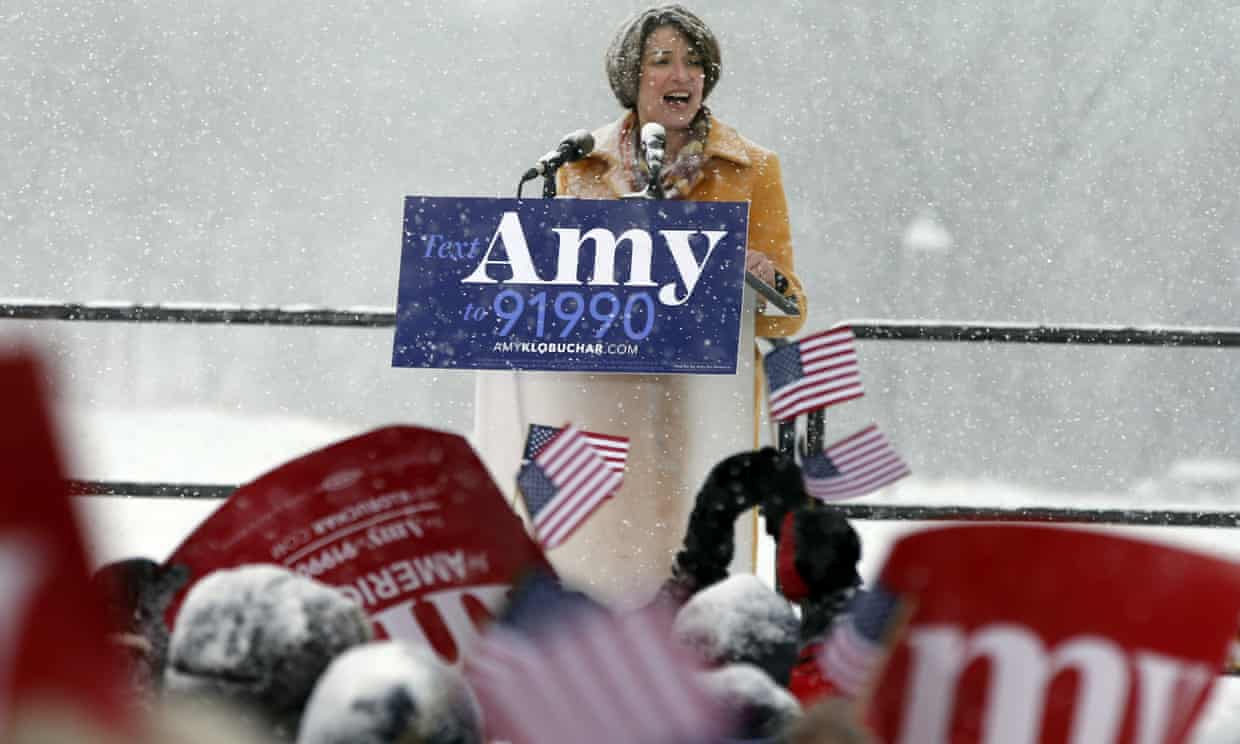 Senator Amy Klobuchar, of Minnesota, has joined the crowded field of Democratic candidates for 2020 that includes a historic number of women seeking the presidency.
The three-term senator, who is often characterized as "Minnesota nice" amid the rough-and-tumble of politics, is looking to be a foil to Donald Trump's brash personality and often vitriolic rhetoric.
She stood outdoors in thick falling snow in Minneapolis on Sunday afternoon to declare: "In our nation's heartland at a time when we must heal the heart of our democracy … I stand before you … as the first woman elected to the US Senate from Minnesota to announce my candidacy for president of the United States."
Klobuchar on Sunday joined a jam-packed field that includes several of her Senate colleagues, including Elizabeth Warren of Massachusetts, Kirsten Gillibrand of New York, Kamala Harris of California, and Cory Booker of New Jersey, as well as the former San Antonio mayor Julian Castro and Hawaii Representative Tulsi Gabbard.
Klobuchar, 59, is the sixth prominent woman to wade into the primary contest, which features a record number of women vying for a major-party nomination. She launched her candidacy at an outdoor event in Minneapolis on Sunday afternoon.
But amid an upbeat launch for the White House, there is a cloud over Klobuchar this weekend in the form of several reports late last week where ex-staffers claim the Minnesota Democrat has a reputation for running a workplace in Washington "controlled by fear, anger, and shame", according to Buzzfeed.
A report in the Huffington Post said that at least three people withdrew from consideration to lead her forthcoming campaign — in part because of Klobuchar's history…