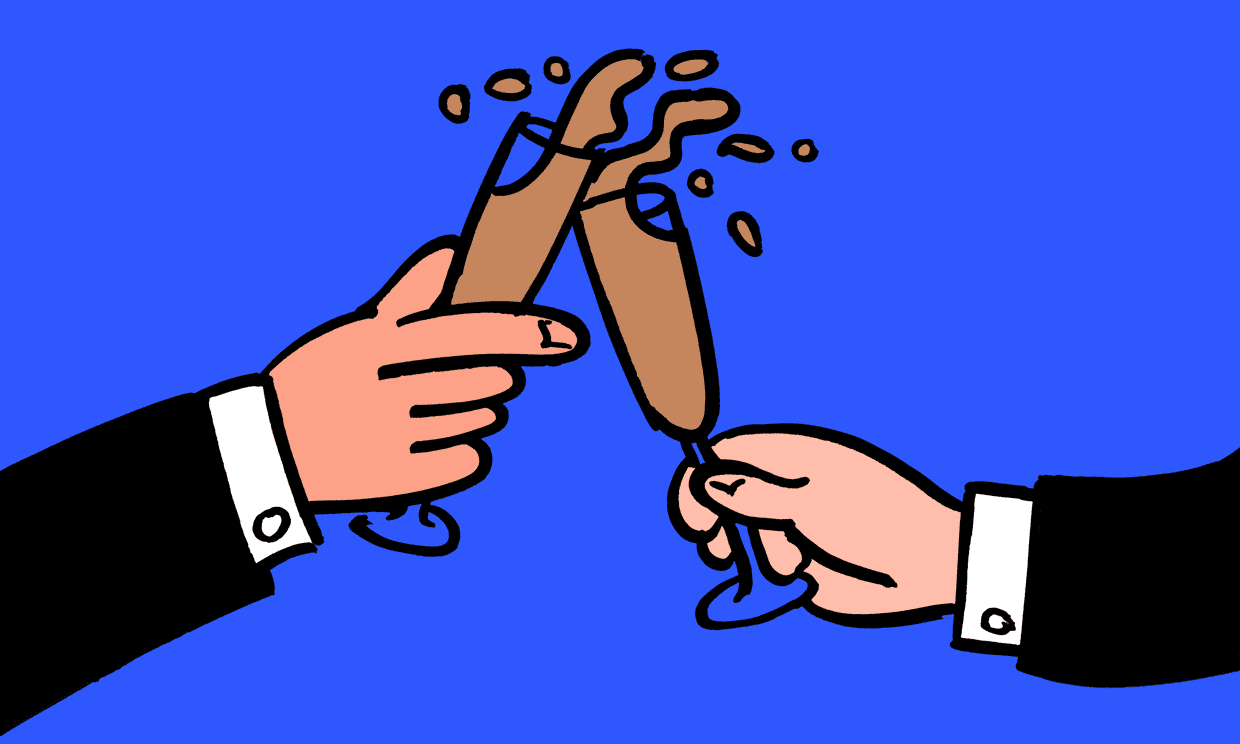 The US Department of Agriculture secretary, Sonny Perdue, raised a glass of chocolate milk to dairy lobbyists in an unannounced visit to their board of directors' meeting in October, as the group celebrated a recent trade win.
The Trump administration's North American Free Trade Agreement (Nafta) negotiations gave American dairy farmers more access to the Canadian market, allowing them to export an addition 50,000 metric tons of milk northward.
Just two months later, Perdue would finalize a rule allowing fattier chocolate and strawberry flavored milks to be sold to roughly 31 million kids in school cafeterias.
"He grabbed a glass of chocolate milk, and made a chocolate milk toast to our CEO and our board," Cary Frye, the senior vice-president of regulatory affairs at the International Dairy Foods Association (IDFA), told the Guardian.
Perdue's chocolate milk salute to the dairy lobby was just one example of how the Trump administration has worked closely with the dairy industry, at a time when the president's trade war has hurt farmers.
At the same time, Trump's trade war with China and Mexico has cost American dairy farmers an estimated $1.5bn in retaliatory tariffs. All the while, milk production has increased 13% over the last decade, even as sales have declined. In 2018 alone, sales dropped 6% compared with plant-based milks, which increased 9%, according to Nielsen data.
At the same time, a handful of heavyweight lobbyists were spending millions in support of the interests of milk, cheese and yogurt producers in the US. The IDFA spent $1.3m lobbying on a variety of issues, including school milk, according to Senate lobbying disclosures. It gave another $260,000 to candidates, two-thirds of whom were Republican, through its political action committee, according to the Center for Responsive Politics. The Dairy Farmers of America spent $924,000, including on school milk, according to CRP.
The same year, the Trump administration bought $50m worth of milk in August to give to food banks and schools. In September, it announced $127m in direct payments to dairy farmers. In October, American dairy farmers gained more access to the Canadian dairy market thanks to Trump's renegotiation of Nafta. Then, in December, the new school milk rules were finalized.
"For milk processors, this was really important. They saw milk sales were declining, they continued to decline in schools," said Frye. Getting low-fat flavored milk back in schools, she said, was one of the "top five" issues for milk processors. "We were very pleased to see this change made."
School nutrition rollbacks allowed schools to serve low-fat flavored milk (rather than only non-fat), as well as more refined grains, and delayed sodium restrictions. Even as the USDA approved the measure, much of the public appeared to oppose it. The federal rulemaking process requires agencies to seek public comment on new policies. More than 83,000 people commented to the USDA, and…