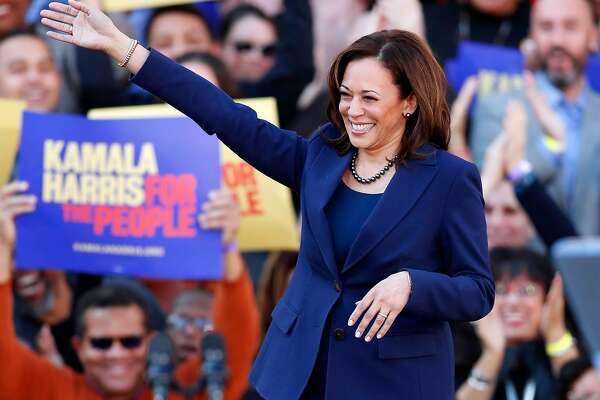 Sen. Kamala Harris, D-Calif., often invokes her East Bay upbringing as the child of civil rights activists to explain her political philosophy. At a rally Sunday in her hometown of Oakland, she officially launched her presidential campaign by tapping those same populist themes.
A crowd that rally organizers estimated at 20,000 people filled the streets around a flag-draped Frank Ogawa Plaza, where Harris made her opening 2020 pitch: She will be the candidate who is both "a fighter for the people" and someone who can unite a country severed into partisan corners by saying that "we must seek truth, speak truth and fight for the truth."
"People in power are trying to convince us that the villain in our American story is each other. But that is not our story. That is not who we are. That's not our America," Harris said in a 35-minute speech that quoted both anti-slavery orator Frederick Douglass and reggae icon Bob Marley. "Our United States of America is not about us against them. It's about 'We the People.' And in this moment, we must all speak truth about what is happening."
Speaking a few blocks from where she was born at Kaiser Permanente Medical Center, Harris said: "I'm running for president because I love my country. I'm running to be a president by the people, of the people, for all people."
Sunday's rally capped a weeklong White House campaign rollout for Harris, 54, the former San Francisco district attorney and California attorney general, that highlighted her roots.
The daughter of immigrants from India and Jamaica announced her campaign on Martin Luther King Jr. Day on ABC's "Good Morning America"; stopped by her alma mater, Howard University; then appeared at a fundraiser for Alpha Kappa Alpha, her college sorority, at a gala Friday in South Carolina, a key early primary state. On Monday, she will appear at a CNN-televised town hall in Iowa, the first caucus state.
The rollout has been widely praised not only for its first-day money haul — $1.5 million from roughly 38,000 donors within 24 hours of Harris' announcement. That's roughly the same as Vermont independent Sen. Bernie Sanders raised in a one-day haul early in his 2016 presidential run. Last week's launch also succeeded in generating curiosity about Harris' campaign. Google searches of Harris were far higher than for the other big-name Democrats…