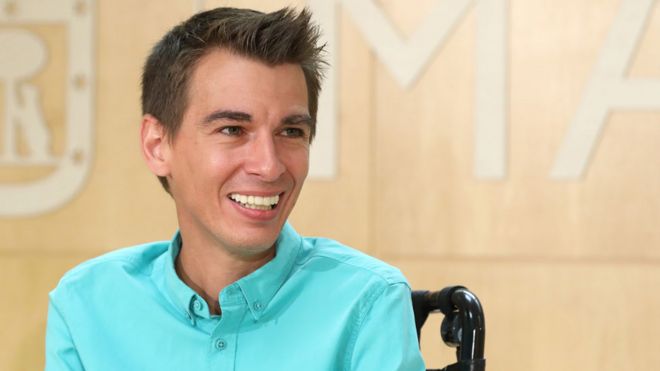 Once, he faced down major music industry giants over the file-sharing software he created. Now, Pablo Soto wants to use his digital knowhow to reshape democracy.
He is in the left-wing coalition that beat traditional parties to take over Madrid's council in 2015.
Now, as Madrid's head of open government, Mr Soto has launched a platform where citizens dictate policies to city hall and choose what to spend taxes on.
"I don't think of myself as a politician," the councillor says. "But I am a political person."
"I want public participation to be the prime mechanism for reaching political decisions, with the role of politicians reduced to handling the lesser day-to-day stuff."
How file-sharing crusader became an activist
A decade ago Mr Soto was a twenty-something computer programmer who had designed a series of person-to-person (P2P) file-sharing applications used by 25 million people around the world.
Many of them used the software to share music files.
Mr Soto, who has muscular dystrophy and uses a wheelchair, was sued in 2008 by Warner, EMI, Sony and other entertainment industry giants for millions of euros in allegedly lost revenues – a sum he says he could not have dreamed of amassing.
He eventually won a drawn-out series of battles though Spain's courts that, he says, made him more politically aware and an activist for internet freedom and net neutrality.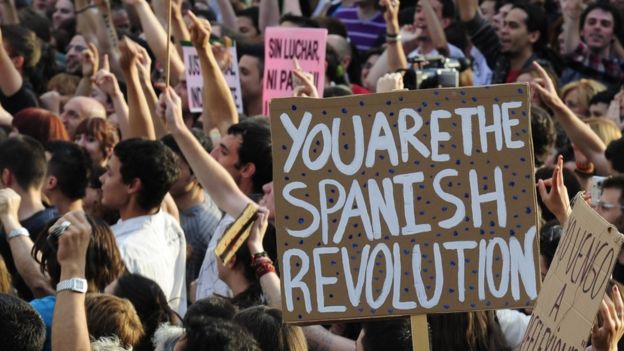 He then joined the mass street protests against Spain's party politics that mimicked the Arab Spring revolts.
"The most political moment of my life was the night of 15 May 2011, when I decided to take my rucksack to Puerta del Sol in Madrid, even though there was a threat of the police clearing the square as the protest had been declared illegal.
"We challenged a whole system of representation in which a few people have 100% power of decision for years, without having to explain or allow citizens to participate."
From street protest to digital democracy
Mr Soto turned to technology to open up the decision-making process.
Decide Madrid is an online platform with…