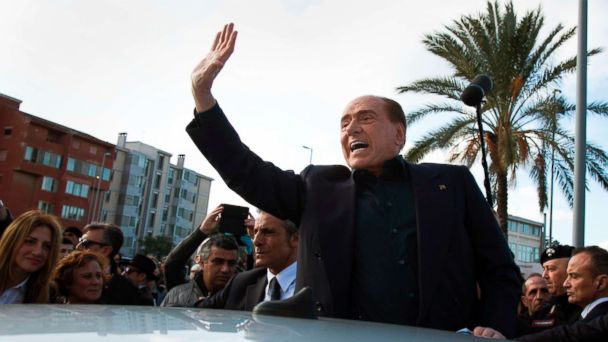 Rome —
Four-time prime minister and octogenarian Silvio Berlusconi, announced his comeback – once again – to Italian politics Thursday.
Speaking at a rally in Sardinia, he said his aim "at the beautiful age that I have" was to run in the upcoming European elections in May to stop the present upsurge of populist governments winning seats in Europe.
He will run as a candidate for his center-right Forza Italia party, which, since its heyday in the 90s, has lost massive amounts of votes in the polls.
He accused Europe of lacking "deep thinking about the world. … With my knowledge, my experience and my ability to convince people, I can play an important role and make European citizens understand that we risk moving away from Western values."
He took a similar line to when he entered politics in 1994, saying he was doing it to stop "the communists." This time, he said he's entering politics to stop the present Italian government from gaining more votes in the European Parliament – mainly in an attempt to slow down the anti-establishment Five Star Movement, a political party that he has repeatedly called "dangerous," "inexperienced" and "incompetent."
The Five Star Movement, however, shares government power with the right-wing, anti-migrant and Eurosceptic Northern League Party, which used to partner with Berlusconi in the government. He was careful not to upset the League as he still hopes to win his former…