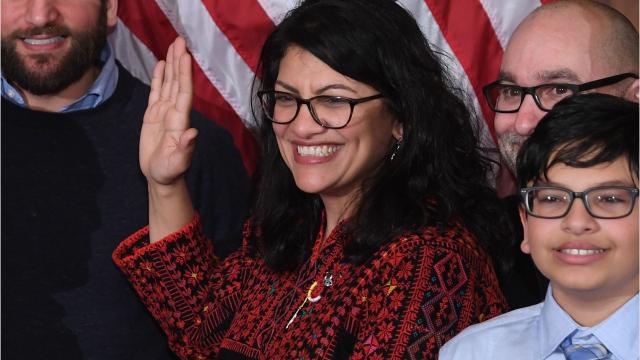 Hours after being sworn into the House, Rashida Tlaib was heard saying, "We're gonna impeach" President Trump. Wochit
What lessons can we progressives take from our ballot-box wins last year (and for that matter, from our losses)? What can we do to build on these victories and produce more in this year's elections — and in 2020?
We must assess this broad strategy ourselves, for most of today's mainline political analysts focus solely on "candidate politics." Obviously, we need information about the principals who are asking for our votes, but too much "focus on the candidate" pushes America's election story into the swirling shallows of gossip and puffery while ignoring the bigger, more significant story in 2018: movement politics. Thus, the media reduce our nation's vital democratic exercise to comic-book buzzwords like "blue wave" and "red wall," trivializing the extraordinary efforts of the multitudes who are striving to create a progressive future.
New York Times commentator Frank Bruni, for example, even consulted a Harvard professor of evolutionary psychology to develop his novel grasp of last year's voter behavior ("Politics aren't pretty. But politicians are," Nov. 20). Normally a smart guy, he veered off into the psycho-pop ditch, writing after the election that the meteoric rise of such progressive candidates as Andrew Gillum in Florida, Alexandria Ocasio-Cortez in New York and Beto O'Rourke in Texas was attributable to a political quality they share: They're "hot," the scribe explained.
More specifically, Bruni diagnosed Gillum and O'Rourke as "hunks," while Ocasio-Cortez's special appeal lay in "her gorgeousness." Then he…