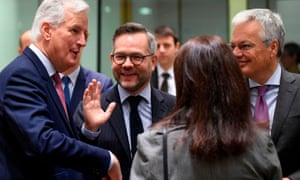 Britain has all but given up on a special Brexit summit at the end of November as there remain too many sticking points to complete the talks in the time originally hoped for.
UK and EU negotiators were talking until 2.45am on Monday, Downing Street said, but sources downplayed the prospect of any immediate breakthrough as the impasse on the Irish border backstop continues.
Negotiations will continue intensively this week, but unless there is dramatic progress by the end of Wednesday, there can be no European summit to sign off a draft deal this month. "There's no breakthrough at the moment," a Whitehall source said.
The absence of a breakthrough means Tuesday's scheduled cabinet meeting will not be the substantive discussion intended to sign off the UK's Brexit negotiating position as had been expected. It will note developments and discuss no-deal planning instead.
A Brexit deal could be signed off at the European Union's scheduled summit on 13 and 14 December, which would leave little time to squeeze in a parliamentary vote to ratify the agreement before Christmas.
May's prospects of sealing a Brexit deal markedly reduced as Conservative concern about her negotiating strategy intensified. Penny Mordaunt, the international development secretary, became the second cabinet minister in two days to warn that the prime minister did not have a completely free hand.
"The important thing is that there's two checks on this deal – there's cabinet and there's parliament. And so cabinet's job is to put something to parliament that is going to deliver on the referendum result. We need to work together as a cabinet to do that. And I'm going to be supporting the prime minister to get a good deal for this country," Mordaunt said.
Earlier, Michel Barnier said a breakthrough had not been achieved in the latest intensive negotiations with the British over the weekend.
During a short meeting in Brussels, Barnier told European affairs ministers for the 27 EU members that the negotiators had so far failed to make the decisive progress needed on the Irish border issue.
"Barnier explained that intense negotiating efforts continue, but an agreement has not been reached yet," a statement said.
Brexiter Andrea Leadsom said on Sunday that she was "sticking in government" to ensure the UK was not trapped in a customs arrangement against its will. On Friday, rail minister Jo Johnson, a younger brother…