Atlanta, Georgia (CNN)If the Democrats make gains in the midterm elections next week, their lawmakers could assert themselves more aggressively on the foreign policy issues that have defined much of Donald Trump's presidency — trade, climate change and the Iran deal, to name a few.
If the Republicans hang onto power, they could help Trump cement his vision of a new world order.
Many Democrats I spoke to here in Georgia said they were concerned and even embarrassed by Trump and the image this White House was portraying abroad, while many Republicans view Trump as having restored America's standing in the world, echoing the President's talking points that he has been tough on China, NATO and the North American Free Trade Agreement.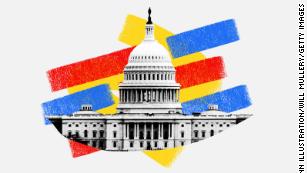 But when asked what this election is all about, Republican voters talk about immigration, Supreme Court nominations and the economy. For Democrats, it's healthcare, gun control and education reform.
The impact of the Trump presidency on the world is only a small part of the conversation ahead of the midterms. International issues that really hit home are the ones cutting through — trade policies that affect American farmers and a group of migrants slowly making their way toward the US border.
The President is now focused on immigration and the narrative that the US is about to be "invaded" by Central American migrants. He's deployed more troops to the…