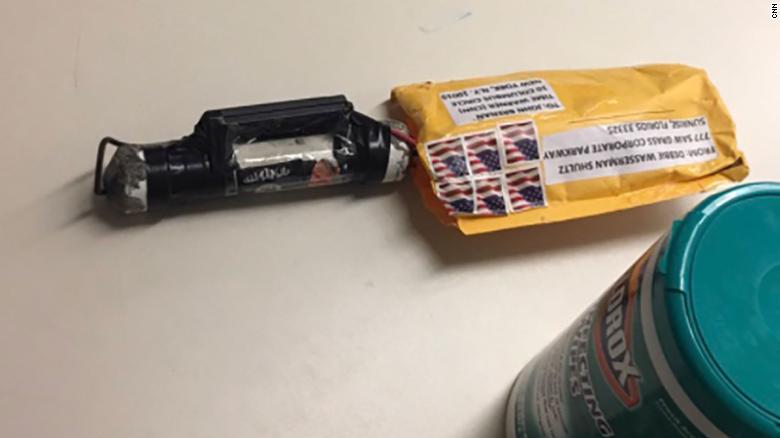 (CNN)Washington is locked in a destructive and acrimonious ritual that plays out every time President Donald Trump is called upon to lead in a moment of national peril — and that ensures that America's political estrangement will only deepen.
The controversy over explosive devices sent to prominent Democrats, a liberal billionaire and CNN — all frequent targets of the President's rhetoric — is following a pattern repeated over and over during over 21 tumultuous months.
When a natural disaster, a political controversy or a mass shooting takes place, the media and political establishment set expectations for Trump to invoke a poetic vision of common purpose and unity, craving a spectacle in line with the traditional conventions of the presidency at great historical moments.
Trump then produces a scripted response that is adequate, but in the moment or in subsequent days undercuts that message with radioactive comments or tweets that spark fierce criticism and mobilize the conservative media machine in his defense while he often deflects blame back onto the media as he did in a pointed 3 a.m. tweet early Friday morning.
It suggests the President has little desire to play the role of national counselor being forced upon him — one that is a poor fit given his deliberately divisive style. The drama usually ends with another layer of bile added to the nation's politics.
That a President who has based his political career on crushing conventions and norms should so constantly be tripped up by the behavioral and ceremonial codes that define the role of head of state is deeply ironic.
But Trump knows that refusing to bow to the standards the establishment demands is the secret of his bond with his loyal political base.
"Do you see how nice I'm behaving tonight?" he said on Wednesday, letting a crowd in Wisconsin in on the joke of a performance toned down after the bombs were discovered.
These dual forces operating on Trump help explain why the political divides and mutual mistrust cleaving America — between the President's loyalists and critics — are unbridgeable and will produce a bitter 2020 election campaign.
As soon as authorities discovered that homemade bombs had been sent to former President Barack Obama and the home of former President Bill Clinton and former Secretary of State Hillary Clinton, as well as other Trump targets like George Soros and CNN, eyes started turning to the White House.
The President had to say something, and he did so at the top of a previously scheduled event on Wednesday.
"I just want to tell you that, in these times, we have to unify. We have to come together, and send one very clear, strong, unmistakable message that acts or threats of political violence of any kind have no place in the United States of America," Trump said, slamming the "egregious" and "abhorrent" attacks.
It was a strong statement on the face of it, though was notable in failing to name any of the victims, all often the focus of Trump's ire.
It was only later that his unwillingness to play the role presidential tradition requires became clear. At a rally in Wisconsin, the President undercut his message by appearing to blame the media and his opponents for the sour national mood in which the pipe bombs had been crafted and delivered.
His performance not only flouted the paternal conventions of the modern presidency — which date at least to Franklin Roosevelt's fireside chats during the Great Depression — it also suggested that when…