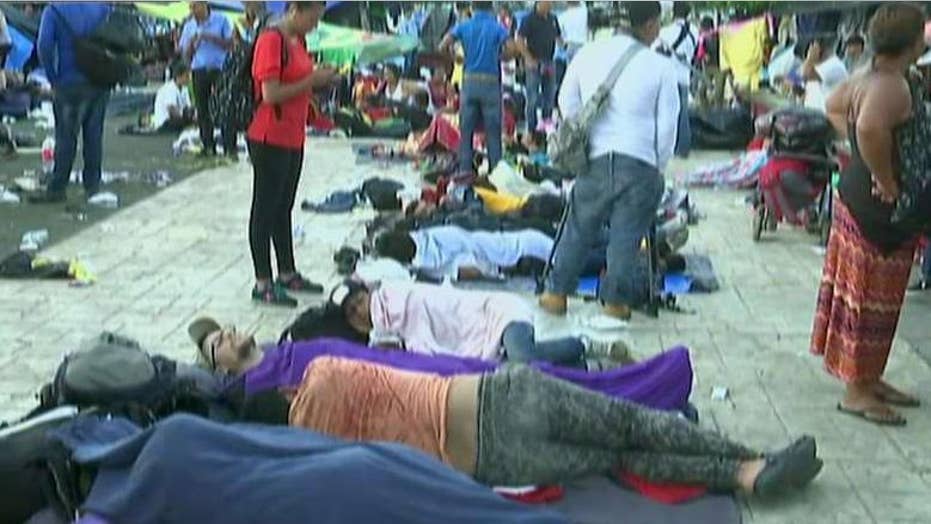 As several thousand Central Americans and Mexicans continue to march toward the United States in the migrant caravan, more questions are being asked about how the effort was brought together, who is behind it, and what prompted the movement to this point just weeks before critical U.S. elections.
While some claim the caravan began organically, others argue opponents of President Donald Trump's immigration policy have played a key role in the movement, with the aim of embarrassing the U.S. administration, and its supporters in Central American countries like Honduras.
"This caravan was initially organized by Bartolo Fuentes, a known leftist activist and former member of the national Congress in 2013, representing the political party of deposed Honduras president Manuel Zelaya," Johan Obdola, President of Latin America-focused global intelligence and security firm IOSI, told Fox News. "Now, this is not new, but is the first time it gets a high level of international media attention. And the reasons are beyond the political."
Obdola argued it's in the interest of Honduran opposition members like Zelaya to "actively create violent acts and destabilization in Honduras," and said the caravans are part of a plan to keep the region "in constant chaos." He also argued the former Honduran leader – who served as president from 2006 to 2009 – is closely allied with the Venezuelan regime of Nicolas Maduro, and questioned that conflict-riddled nation's role in fostering mass migration in an effort to embarrass the current, pro-U.S. Honduran President, Juan Orlando Hernandez.
Honduras has been plagued by discord since its election last November of Hernandez, who defeated Zelaya. Many Zelaya supporters protested the results, claiming they were fixed in favor of a U.S-approved leader. The subsequent unrest has been cited as a key factor for Hondurans wanting to leave their country.
Fuentes, a former Zelaya government legislator and host of the migration-focused radio show "Without Borders," is often characterized by Honduran government figures as a "coyote," or human trafficker. To others, he is a social activist. Fuentes himself last week was pulled from the main caravan group in Guatemala and deported back to Honduras.
Zelaya staunchly denied any link to the caravan, or any effort to push Hondurans toward the United States.
"This apocalyptic exodus is due to the disgraces that the people are living," he told Fox News in an exclusive interview Thursday. "The caravan is a natural process of unity. It is self-summoned, and there is no organization assembling this quantity of immigrants in the country. It is a reaction from the people to the problems they are living in our countries."
The former president also accused the U.S. of "maintaining a socialist dictatorship" in its support for the "illegitimate" Hernandez leadership, but denied any other governments – including Venezuela – were behind the caravan.
"No leftist government has come here to promote immigration to the U.S., nor has it financed it. No one needs to pay Honduras to leave. They leave voluntarily," Zelaya continued, adding that while he has personally worked with Bartolo Fuentes in the past, immigration has long been his most important issue of advocacy.
"Fuentes has worked with the immigrant community for 20 to 30 years – well before entering politics – and that he receives no money for this work nor has he given out money to anyone," Zelaya insisted.
The Honduras Embassy in Washington and Fuentes did not immediately respond to request for comment. Fuentes wrote on Facebook this week that the migrants are in need of basics like ointments for blisters, socks, shoes, diapers, and umbrellas. He thanked the help of pastors and churchgoers for food and other supplies.
While Fuentes had much to do with helping bring to life and expand the presence of the caravan, others contended he was not the first. Rather, social media platforms like Facebook and WhatsApp laid the first foundations that made it easy to draw in Hondurans looking for an easier path to the U.S.
"They had been unable to afford coyotes, so they viewed joining this caravan as their opportunity to flee turmoil in much of Central America," said James Hyde, an analyst and member of the Electromagnetic Pulse Task Force on National and Homeland Security. "When Honduran TV picked up the posts and the reactions to it, the number of people swelled from hundreds to thousands."
Hiring coyote smugglers for the perilous journey can cost up to $5,000, more than double what most Hondurans make in one year.