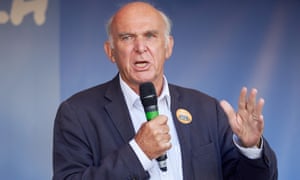 The leader of the Liberal Democrats, Sir Vince Cable, urged Michel Barnier to stop talking up a no-deal Brexit and instead make contingency plans for a second referendum after the EU's chief negotiator admitted that a parliamentary impasse in the UK was standing in the way of a deal.
Cable said the government and Brussels had up until now been emphasising the danger of the UK crashing out in order to sell a "bad deal" to parliament.
But the former business secretary told Barnier during a meeting in Brussels that the so-called people's vote was gathering support across the political spectrum, and the European commission needed to ready itself for the eventuality.
Emerging from an hour-long meeting, Cable said it was clear that the former French minister had a keen grip on the political situation in Westminster.
Barnier was said to have told Cable that he recognised that the major hurdle standing in the way of a deal was the impossible parliamentary arithmetic facing the prime minister.
"The UK needs to come up with something that meets their requirements," Cable said of his conversation with Barnier. "It's very clear really: it is a British problem rather than one on the European side."
But Cable, who was meeting the EU official with the leader of the SNP in Westminster, Ian Blackford, and representatives of Plaid Cymru and the Greens, said the message to Barnier was that there was no way out of the logjam, and that the strength of support for a second referendum was growing daily.
Cable said: "My main message…