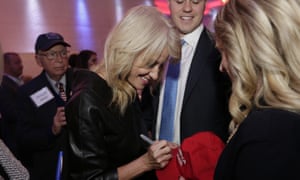 Good evening, I'm Ben Jacobs with the latest from Washington and beyond. If you're not already receiving the Midterms Minute by email, sign up.
Women of the White House hit the campaign trail
Some of the top Republican surrogates for the midterms have been female White House staffers. Kellyanne Conway, Sarah Sanders and Ivanka Trump have all spent substantial time hitting the campaign trail. In fact, although Sanders has only held two press briefings in the past two months, she has appeared at a dozen events for Republicans this fall.
Why them? First of all, because they are not Donald Trump. While Trump is popular in deep red areas, many of the battlegrounds in 2018 are suburban areas where the president is deeply unpopular. Further, they are women and Trump is viewed unfavorably among female voters, something that was not necessarily helped by the confirmation fight over Brett Kavanaugh.
New questions raised over Andrew Gillum's FBI investigation
Andrew Gillum, the Democratic nominee for Florida governor, has long faced scrutiny over an ongoing investigation about ethical lapses while serving as mayor of Tallahassee. New questions were raised on Tuesday when it was revealed that he had accepted a free ticket to the musical Hamilton from men whom he believed to be property developers trying to do business in…