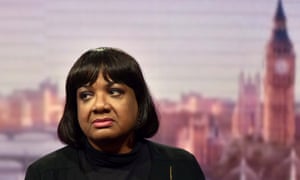 The number of crimes against MPs has more than doubled in a year, prompting concern about the level of intimidation and abuse politicians are facing.
A specialist police team set up to investigate crimes against MPs dealt with 242 complaints last year, compared with 102 in its first year of operation. The unit launched in August 2016 after the murder of the Labour MP Jo Cox.
The data, obtained through freedom of information from the Metropolitan police's parliamentary liaison and investigations team (Plait), was not broken down by the nature of the crimes.
The Met attributed the rise to better engagement with the unit and more MPs reporting problems. DI Philip Grindell, who leads Plait, said: "Since we formed … we've engaged with all MPs about the work we do and encouraged them to report incidents of concern to us."
But experts also expressed concern about this being a growing problem, and MPs spoke of their staff reporting a handful of threatening letters a week to the police.
The shadow home secretary, Diane Abbott, said: "These are batched at the end of the week, otherwise contact with the police would be too frequent. There are many more than this, but these are the ones where police action may result."
The Labour MP said her…