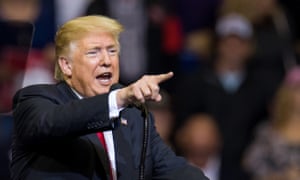 Donald Trump is returning to the inflammatory playbook that helped lift him to victory nearly two years ago, waging a campaign of fear and racial division in an effort to save his party's majorities in Congress.
With two weeks left before the midterm elections, Trump is amplifying a dark vision of what the country could look like if Democrats gain control in Congress. At campaign rallies, on Twitter and in his public commentary, he has issued urgent – if groundless – warnings about terrorists at the border, a socialist takeover and rampant crime.
Long on rhetoric but short on truth, the president has trained his focus on a migrant group trekking through Central America toward the US southern border, a procession the president has called "an assault on our country". The so-called caravan has swelled to more than 7,000 Central Americans, many of whom have said they are fleeing poverty and violence in their native countries and dream of a better life in Mexico or the US.
Yet without citing evidence, Trump has claimed the caravan is embedded with criminals, gang members and "unknown Middle Easterners", an apparent attempt to exploit fear of terrorism and immigration.
"That is an assault on our country and in that caravan you have some very bad people and we can't let that happen to our country," Trump said at a rally in Houston on Monday night. He repeated a baseless claim that Democrats "had something to do with" organizing the migrant expedition. And then declared himself a "nationalist", a term he typically avoids using directly about himself at such events. But in a sign that he wants to escalate the rhetoric, he shouted "use that word" to the cheering crowd. They erupted in chants of "U-S-A".
After the White House press secretary, Sarah Sanders, said Trump "absolutely" had evidence that "Middle Easterners" were among the thousands of families making their way north – and after Vice-President Mike Pence supported the assertion –Trump admitted he had no proof to support his claim.
Speaking on Tuesday afternoon in the Oval Office, Trump "there's no proof of anything" but added that there "very…