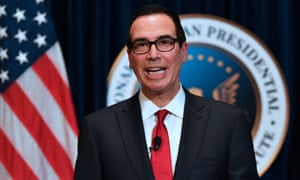 US treasury secretary Steve Mnuchin on Sunday was second-guessing his stated intention to attend an economic conference in Saudi Arabia, following the disappearance of journalist Jamal Khashoggi inside the Saudi consulate in Istanbul.
Mnuchin's wavering, which was reported by White House economic adviser Larry Kudlow, was part of an ambivalent response by the Trump administration to claims by Turkish officials that a team of Saudi assassins killed and dismembered Khashoggi.
"I am planning on going at this point," Mnuchin said on Friday of the investment conference, which is slated to start in Riyadh on 23 October. Media and tech companies including Uber, Virgin and Viacom have withdrawn in protest at Khashoggi's alleged killing. Financial companies mostly have not.
Kudlow told ABC's This Week that Mnuchin would "make up his mind as the week progresses and as new information surfaces".
Trump has warned "there will be severe punishment" if the allegations were true. That prompted a pugnacious Saudi response on Sunday: "The kingdom also affirms that if it is [targeted by] any action, it will respond with greater action."
But Trump has simultaneously indicated a limited desire to confront the Saudis, telling 60 Minutes on CBS News he would not cancel an arms deal with the kingdom in any case.
"They are ordering military equipment," Trump said. "Everybody in the world wanted…