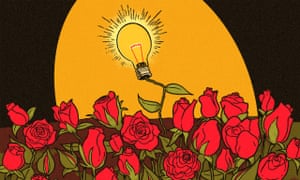 During May's local elections, Ilford Conservative party printed and distributed a leaflet with no policies and no achievements, bearing the headline, "What we're doing/have done for ward/area name". It had mistakenly put out a template. Underneath came numbered bullet points next to a list of what were intended to be accomplishments, which began: "Issue 1 We've done: Three lines of text about what issues/projects/policies you've already done or are doing or will be doing in your ward/area." It continued all the way up to Issue 4.
Since the Brexit referendum, the Conservatives have conducted themselves less like a party fit to govern than a calamitous metaphor fit for a meme. If May is not coughing, she's dancing; if the party conference slogan isn't falling off the wall during her speech, it juxtaposes the promise "Security, Stability, Opportunity" in 2015 with just "Opportunity" this year. A near-empty conference hall addressed by ministers sits tellingly beside a bustling fringe where leadership contenders top the bill. With the rhetorical vacuity, scripted conviction and managed spontaneity laid bare, all that is left is a hollow shell where a political party might be.
Just over three years after Jeremy Corbyn won Labour's leadership election, our understanding of the role a party can play in political life has been reimagined. Not so long ago, parties stood for electoral power. Anything less was irrelevant; anything more was unnecessary. It was a feat to be attained not through active engagement with members and voters, but to be directed by a professional class of politicians and their advisers, pollsters and marketers. If turnout plummeted, disaffection grew or confidence in the process dissipated, never mind. (Paradoxically, many of those in New Labour who clung most fiercely to this credo are also those most incandescent at one of its most obvious consequences: Brexit.) Politics, crudely reduced to electoralism, was not something people got involved in but something that was imposed on them.
"The age of party democracy has passed," the late Irish political scientist Peter Mair declared in Ruling the Void, published posthumously in 2013, two years after he died. "Although the parties themselves remain, they have become so disconnected from the wider society and pursue a form of competition that is so lacking meaning that they no longer seem capable of sustaining democracy in its present form."
Under Corbyn's leadership, that began to change. Indeed, his very election to leader – which twice pitted members foursquare against the parliamentary party and twice saw members prevail – shows that he is not only an agent of that change but a product of it. Labour's membership has virtually trebled in size, now standing at around 550,000. Anything that grows that fast and shifts its orientation that dramatically will have challenges. Many new members are passive; some prioritise a left agenda within the party; others see the party as a route to social activism in their communities; some joined because they want to get rid…