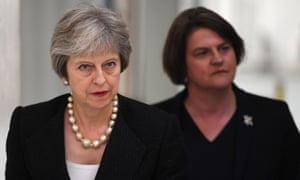 Secret plans to allow an extension of the transition period in the Brexit withdrawal agreement could result in the UK living under all EU rules well beyond the 21 months so far negotiated, the Guardian can reveal.
The expected offer of an extension is designed to convince Arlene Foster, the leader of the Democratic Unionist party, that the "backstop" plan to avoid the creation of a hard border on the island of Ireland will never come into force.
A longer transition period would mean the whole of the country would be locked into a prolonged period of what EU diplomats have previously described as a state of "vassalage", with the House of Commons being forced to accept Brussels regulations without having any say on them.
The revelation came as EU ambassadors were informed at a meeting on Friday evening that, following further concessions by the UK, good progress was being made on a Brexit deal in the negotiations and results could be made public as early as Monday should extra ground be made on the Irish border issue over the weekend.
Sabine Weyand, the EU's deputy chief negotiator, told the 27 member states that the state of play would be assessed by the negotiating teams on Sunday evening. EU officials remain wary, however, that developments in the UK could still derail the deal.
In current plans, the backstop, under which the whole of the UK would stay in a customs union while Northern Ireland alone effectively stayed in the single market, would be enacted in December 2020 if a bespoke technological solution or trade deal could not be reached by then.
Foster has insisted she will not accept any Brexit deal under which Northern Ireland is treated differently to the rest of the UK.
Senior Brexiters, including the Commons leader, Andrea Leadsom, are understood to be planning to attend cabinet next week before deciding on whether to resign. There was alarm about the language used by Downing Street on Friday that Theresa May "would never agree to a deal that would trap the UK in a backstop permanently". They were concerned, sources said, about any backstop proposal that risks the UK staying in the customs…