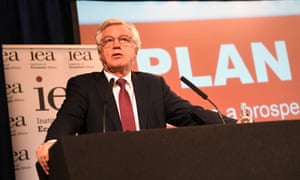 Millions of dollars has been raised from anonymous US donors to support British rightwing thinktanks that are among the most prominent in the Brexit debate.
American donors are giving money to US fundraising bodies that pass the donations to four thinktanks in Britain. A Guardian analysis has established that $5.6m (£4.3m) has been donated to these US entities since 2008.
The Institute of Economic Affairs (IEA), the Adam Smith Institute, Policy Exchange and the Legatum Institute have all received financial support from US backers via this route.
The disclosure leaves the thinktanks facing questions as to whether wealthy Americans have undue influence in British politics, particularly over the form Brexit takes.
The UK thinktanks are some of strongest proponents of radical free trade deals with reduced regulation – positions likely to benefit big American businesses, which have opposed Europe's tighter regulations since the 2008 financial crash.
They have a policy of not disclosing their donors, arguing they respect their backers' right to privacy unless the backers wish otherwise. Critics say the lack of transparency allows unseen donors to influence political debate.
The charitable status of the thinktanks requires them to remain non-partisan, and they all insist they have not taken a line as institutions on whether the UK should leave the EU.
However, they have published or contributed to policy papers that advocate a Brexit deal that makes a clean break from European regulations.
The IEA, Adam Smith Institute and Legatum Institute are part of the Atlas Network, which says it connects "a global network of more than 475 free-market organisations in over 90 countries to the ideas and resources needed to advance the cause of liberty".
The IEA has been prominent in the Brexit debate. A US entity, the American Friends of the IEA, has raised at least $1.69m in the last decade.
The IEA has been a partner in a flurry of activity by the caucus of hardline pro-Brexit MPs in the European Research Group in the weeks building up to the Conservative party conference.
It published a paper this week authored by the head of its trade and competition policy unit, Shanker Singham, a lawyer and former Washington lobbyist. The report said the UK could "deliver the Brexit prize" by negotiating radical free trade agreements with the US and other countries. It called for the removal of tariffs and many of the controls put on financial services including hedge funds and banks post-crash.
It also called for opening all services to competition, including the health service, scrapping many of the EU regulations on data protection, pharmaceuticals and food safety and chemicals, and reducing taxes. It suggested civil servants could be replaced by politically appointed trade negotiators.
The IEA declines to identify its donors, but in the past they are…