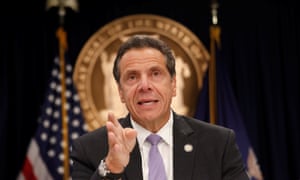 Democratic New York governor Andrew Cuomo has said the so-called insurgent progressive wave in his party is "not even a ripple", arguing that it's pragmatists like him who can get things done who are the true progressives.
Cuomo, a two-term Democratic incumbent, on Thursday defeated challenger Cynthia Nixon by a 30-point margin – turning back the latest attempt by a newcomer from the left to unseat a Democrat favored by the establishment.
The governor, viewed as a potential 2020 presidential contender, used a victory lap press conference on Friday to make a forceful case for his own vision of the party.
"I'm not a socialist. I'm not 25 years old … I'm not a newcomer," he told reporters at his Manhattan office. "But I am a progressive. And I deliver progressive results."
Cuomo was fighting back against another narrative that has taken hold in the party: that the upset win by New York's Alexandria Ocasio-Cortez, a Democratic socialist who knocked off powerful representative Joe Crowley, set off a domino effect in primaries around the country, including upset wins by progressives running for governor in Georgia and Florida and for a congressional seat in…