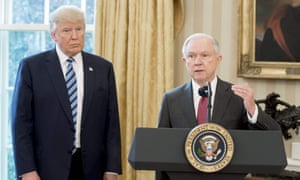 Donald Trump said on Thursday the US attorney general, Jeff Sessions, was safe in his job at least until the midterm elections, Bloomberg News reported.
"I just would love to have him do a great job," Bloomberg quoted Trump as saying in an Oval Office interview. It did not quote the president directly about Sessions being safe until November.
Trump has repeatedly attacked Sessions for recusing himself from the investigation into Russian interference in the 2016 US election. In his confirmation hearings, Sessions did not disclose to senators meetings with the then Russian ambassador during the presidential campaign.
Deputy attorney general Rod Rosenstein appointed special counsel Robert Mueller to lead the investigation, which Trump has called a "witch hunt".
Trump also…