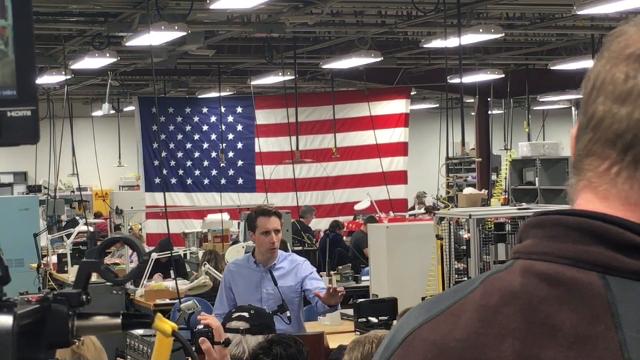 Missouri Attorney General Josh Hawley visited Springfield on Tuesday, March 13, 2018 for a campaign speech. He is running for the U.S. Senate seat currently held by Democrat Claire McCaskill. Harrison Keegan/News-Leader
This story has been updated to better reflect the diversity of opinion in Missouri's Baptist community regarding a federal ban on political activity in houses of worship.
The Baptist General Convention of Missouri announced Wednesday its support of a continued federal prohibition on churches' political activities.
However, the large Missouri Baptist Convention is standing firm in its opposition on the ban.
Under the ban — which recently became an issue in the state's U.S. Senate race — 501(c)(3) nonprofit organizations like houses of worship have been prohibited for decades from endorsing or denouncing candidates or else face losing their tax-exempt status.
Recently, Republican Attorney General and Senate candidate Josh Hawley has voiced support for repealing the ban, also known as the Johnson Amendment, in the name of protecting religious liberty.
That position clashes with the consensus of the Churchnet Baptist convention, which reiterated its support for the Johnson Amendment and said that "the faith community and the nonprofit community widely support the political activity ban."
"The 'Johnson Amendment' protects houses of worship from candidates seeking endorsement during a political campaign," said Brian Ford, executive director of Churchnet, in a statement. "As a life-long Baptist and ordained pastor, I can't imagine how damaging it would be to erase this legislation for local…