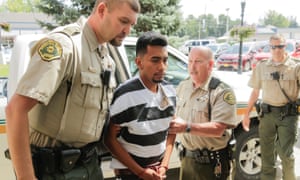 An attempt to add a conservative candidate to the ballot for Iowa attorney general appears to have failed, dealing a blow to rightwingers seeking to make the death of student Mollie Tibbetts an election issue in November.
Tibbetts, 20, was out running near Brooklyn, Iowa when she was last seen, on the evening of 18 July. On Tuesday, it was announced that her body had been discovered in a cornfield, about 12 miles from town.
Cristhian Bahena Rivera, a 24-year-old dairy farm worker from Mexico who apparently used a false identity to conceal the fact he was an undocumented immigrant, was charged with her murder.
A funeral mass was held for Tibbetts on Sunday, in the gymnasium of BGM high school in Brooklyn, a city of 1,500 where she grew up. Hundreds of people attended. Bishop Thomas Zinkula of Davenport, Iowa, led proceedings.
Tibbetts' father, Rob, told the audience in his eulogy to remember her by "celebrating something wonderful", such as a couple who had just married the day before.
Cristhian Bahena Rivera is charged with first-degree murder in Tibbetts' death. Investigators say the 24-year-old Mexican farmworker led them to a cornfield Tuesday where Tibbetts' body…