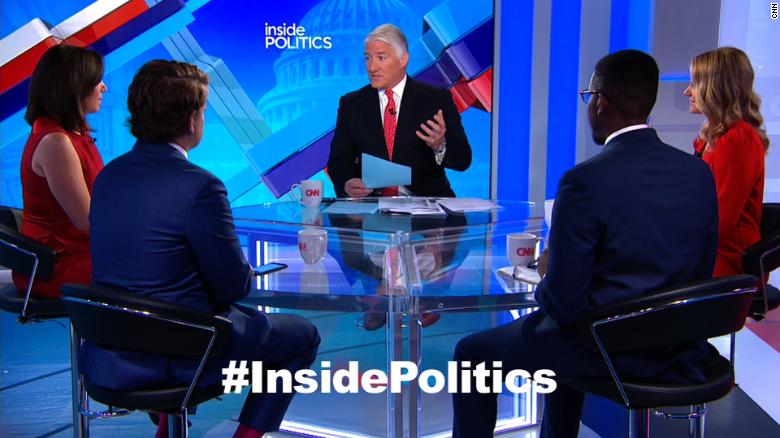 Washington (CNN)Here are the stories our D.C. insiders are talking about in this week's "Inside Politics" forecast, where you get a glimpse of tomorrow's headlines today.
Butina, who was arrested in July on charges of conspiracy and acting as a foreign agent, allegedly worked to make inroads with the NRA and other conservative groups, all with the goal of pushing Russia's agenda in the US.
Her lawyer, however, is trying to change that narrative, launching an online legal defense fund and using sympathetic photos of Butina to reframe her as an innocent student wrongly accused.
"But those very glossy photos are going to be up against a very different image," CNN's Sara Murray said, "and that's going to be her mugshot as she was booked into the Alexandria Detention Center over the weekend."
One year ago this week, President Trump unveiled his strategy for the war in Afghanistan.
But with the war now in its 17th year, and the Taliban making strategic gains throughout the war-torn country, there are mounting questions over whether or not that strategy is actually working.
Military leaders are urging the President to be patient, but they are increasingly concerned that he may decide the current plan isn't working — and order the military to pull out of the country altogether.
"His instinct has always been to withdraw," the New York Times' Julie Davis said. "And with a $4-billion-a-year price tag just for propping up those Afghan security forces, you're starting to hear more concern in the administration that he could just follow through on that instinct."
Once upon a time, Trump campaign rallies were must-see TV, driving the news cycle for days.
But more recently the President's rallies are not having the same effect, even as he ramps up his campaign schedule
For a President who sometimes struggles with staying on script, Trump's rallies largely follow a familiar pattern — a rehashing of…