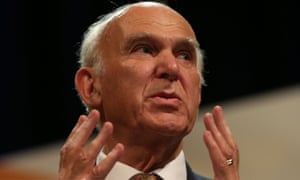 The Liberal Democrat leader, Sir Vince Cable, has denied he was discussing the creation of a new anti-Brexit centrist party at a private meeting on Monday that led to him missing tight votes in the House of Commons.
He also ruled out joining or merging with another party, and said he had repeatedly warned those disillusioned with the current political parties that the UK's first past the post electoral system makes setting up a new party "often suicidal or silly".
But, in an interview on Pienaar's Politics on BBC Radio 5 Live, Cable refused to discuss who else attended what he described as "a confidential private discussion", or exactly what they talked about.
Attending the dinner on Monday meant Cable missed two votes on Brexit legislation, each of which the government won with majorities of just three. Tim Farron, the former Lib Dem leader, was also absent.
It is understood that no MPs from other parties, and no donors, were at the dinner, where Cable and others were engaged in a wide-ranging discussion on how Brexit was contributing to a realignment in UK politics – an issue of particular interest to the Lib Dem leader.
In his interview, Cable said reports claiming the creation of a new centre-ground party was discussed at the dinner were "not correct". But he defended talking to…