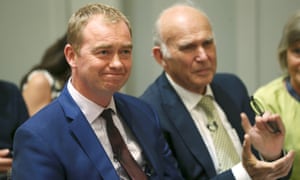 The former Liberal Democrat leader Tim Farron has apologised after he and his successor, Vince Cable, missed the votes on two government-backed amendments tabled by hardline Brexiters that passed with a majority of just three.
Cable and Farron, who have positioned the Lib Dems as the stop-Brexit party, were away from the Commons on Monday night during the vote on amendments tabled by Jacob Rees-Mogg's hardline European Research Group (ERG).
Farron was giving a talk in Sherborne, Dorset, on how he squares his controversial views as an evangelical Christian with being a liberal politician. Cable was attending a meeting away from parliament.
In an email to the Guardian, Farron admitted misjudging the vote. He said: "I was authorised to be absent due to a pre-arranged engagement away from the parliamentary estate.
"In the end nobody expected the vote to be as close as it was – I'd actually cancelled the engagement earlier on, but then uncancelled because we expected Labour to abstain and the government to win by miles.
"We clearly called it wrong, as did Labour. I take full responsibility for my part. The Tories don't deserve any luck, I'm so sorry I inadvertently granted them some."
The Lib Dem chief whip, Alistair Carmichael, also admitted he "messed up". He said: "The government squeaked home by just three votes in a key amendment. It should have been one … By the…