The pound slid to lead losses among major currencies on Tuesday as U.K. Prime Minister Theresa May's fate hung on the line over her Brexit plans.
Sterling headed for a two-week low as May risked a defeat in Parliament later Tuesday over customs arrangements and Bank of England Governor Mark Carney warned of economic pain if the U.K. failed to secure a trade deal with the European Union. While lawmaker tensions over Brexit have been simmering for months, traders are focused on the possibility of a leadership challenge for May, which some strategists say could drive the currency down 5 percent.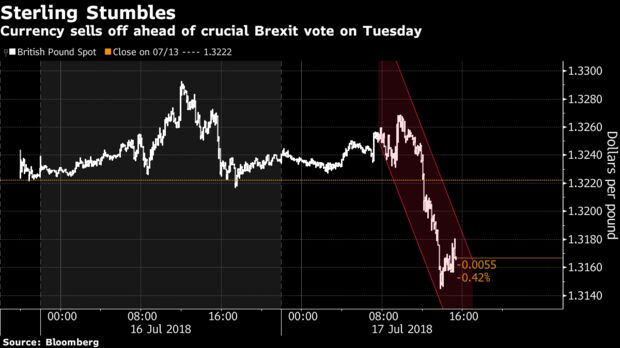 Pound traders have been caught in recent months between two competing forces, with positive noises on an interest-rate hike from the BOE drowned out by concerns over Brexit. May narrowly avoided a defeat in Parliament Monday by making concessions to those in her party pushing for a clean break with the EU, infuriating pro-EU rebels and provoking another rebellion.
"If Theresa May does lose this vote then it seriously weakens her position as Prime Minister," said Kathleen Brooks, research director at Gain Capital Group in London. "We all know that the hardcore Brexiteers want her removed, but now the Remain MPs also seem to be turning on her, which increases the political uncertainty and makes the…