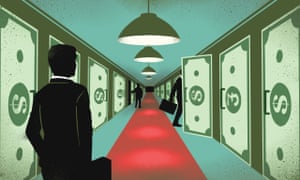 A mere two millennia after Roman politicians paid mobs to riot on their behalf, we are beginning to understand the role of dark money in politics, and its perennial threat to democracy. Dark money is cash whose source is not made public, and which is spent to change political outcomes. The Facebook/Cambridge Analytica scandal, unearthed by Carole Cadwalladr, and the mysterious funds channelled through Northern Ireland's Democratic Unionist party to the leave campaign in England and Scotland have helped to bring the concept to public attention. But these examples hint at a much wider problem. Dark money can be seen as the underlying corruption from which our immediate crises emerge: the collapse of public trust in politics, the rise of a demagogic anti-politics, and assaults on the living world, public health and civic society. Democracy is meaningless without transparency.
The techniques now being used to throw elections and referendums were developed by the tobacco industry, and refined by biotechnology, fossil fuel and junk food companies. Some of us have spent years exposing the fake grassroots campaigns they established, the false identities and bogus scientific controversies they created, and the way in which media outlets have been played by them. Our warnings went unheeded, while the ultra-rich learned how to buy the political system.
The problem is exemplified, in my view, by the Institute of Economic Affairs (IEA). In the latest reshuffle, two ministers with close links to the institute, Dominic Raab and Matthew Hancock, have been promoted to the frontbench, responsible for issues that obsess the IEA: Brexit and the NHS. Raab credits the IEA with supporting him "in waging the war of ideas". Hancock, in his former role as cabinet office minister, notoriously ruled that charities receiving public funds should not be allowed to lobby the government. His department credited the IEA with the research that prompted the policy. This rule, in effect, granted a monopoly on lobbying to groups such as the IEA, which receive their money only from private sources. Hancock has received a total of £32,000 in political donations from the IEA's chairman, Neil Record.
The IEA has lobbied consistently for a hard Brexit. A report it published on Monday as an alternative to Theresa May's white paper calls for Brexit to be used to tear down the rules protecting agency workers, to deregulate finance, annul the rules on hazardous chemicals and weaken food labelling laws. Darren Grimes, who was fined by the Electoral Commission on Tuesday for spending offences during the leave campaign, now works as the IEA's digital manager.
So what is this organisation, and on…