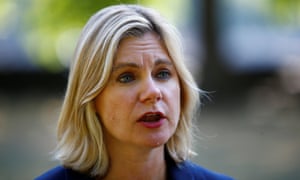 Justine Greening has said she believes other senior Conservative MPs also support the idea of a second referendum to end a likely parliamentary deadlock on Brexit, after she became the most high-profile Tory to endorse such a move.
The former education secretary and remain supporter said Theresa May's Chequers plan "in practice suits no one" and would be rejected by both remainers and leavers. A new referendum would provide "a route forwards", she said.
Writing in the Times, the MP for Putney said the "only solution is to take the final Brexit decision out of the hands of deadlocked politicians" by letting voters choose from three options: May's final deal, a no-deal Brexit or staying in the EU.
Greening proposed a system using first and second-preference votes to ensure the preferred model achieved more then 50% of the final vote.
Speaking later on Monday on BBC Radio 4's Today programme, Greening said she expected other senior Tories would support the idea.
"I think what I'm saying is what everyone is seeing in parliament," she said. Asked whether that meant other leading Conservatives would support her specific plan, she said: "Yes, I believe so."
Also on Monday, May suffered another resignation in protest at her Chequers plan. Scott Mann, the MP for North Cornwall, stepped down as parliamentary private secretary to the Treasury, saying he could not support a "watered-down Brexit".
"Over the coming days, weeks and months, I fear that elements of the Brexit white paper will inevitably put me in direct conflict with the views expressed by a large section of my constituents," he said.
Greening said she thought May's Chequers proposal was now dead. It was a "genuine, clever attempt at a compromise" but had proved to be unworkable, she said.
"Yes, because I think in practice is suits no one, and whether you're a remainer who…