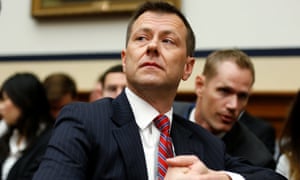 An FBI agent whose anti-Trump text messages raised suspicion of bias in the Russia investigation aggressively defended his professionalism, telling lawmakers he never allowed personal views to affect official decisions and that Republican attacks against him were "another victory notch in Putin's belt".
Peter Strzok, who played a leading role in the FBI investigations into Hillary Clinton's use of a private email server and potential collusion between the Trump campaign and Russia, testified publicly for the first time on Thursday before a joint hearing of the House judiciary and oversight and government reform committees.
"Let me be clear, unequivocally and under oath," Strzok said in his opening statement, "not once in my 26 years of defending my nation did my personal opinions impact any official action I took."
He continued: "I have the utmost respect for Congress's oversight role, but I truly believe that today's hearing is just another victory notch in Putin's belt and another milestone in our enemies' campaign to tear America apart."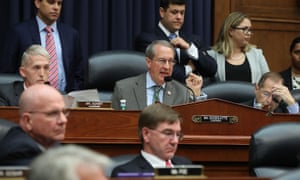 Republicans have seized on the private text messages between Strzok and an FBI lawyer, Lisa Page, as evidence of what they argue is widespread political bias at the highest levels of the justice department. Trump has tweeted on several occasions about the exchanges as an example of what he believes is a politically motivated "witch-hunt" against him.
Special counsel Robert Mueller removed Strzok from the Russia investigation after the justice department's inspector general discovered the derogatory messages between the agents, who were involved in a relationship. Page no longer works at the FBI.
In one text message, dated 8 August 2016, three months before the election, Page asked: "[Trump's] not ever going to become president, right? Right?!"
Strzok replied: "No. No he's not. We'll stop it."
Strzok said he regretted the text messages…