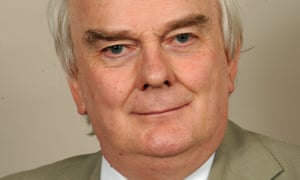 John Laird, Lord Laird, who has died aged 74, was pitched into a political career as the youngest MP at Stormont in 1970, at the age of 26. His father, Norman, the Ulster Unionist MP for St Anne's, Belfast, died in April that year and John won the seat in the consequent byelection. He was catapulted out of politics in 2013 after being caught by reporters from the BBC Panorama programme, the Telegraph and the Sunday Times, offering to lobby for cash.
He referred himself to the House of Lords' standards committee, which suspended him for four months. He then resigned the Ulster Unionist party (UUP) whip at the demand of the party leader, Mike Nesbitt, after Nesbitt watched recordings of meetings with the fake lobbyists – undercover reporters who had trapped Laird – which he found "not edifying". Laird returned to the Lords in 2014 but under a strict injunction from the UUP to rein in his behaviour. He had previously used Lords' privilege repeatedly to name those he claimed were IRA killers, criticised Ireland for failing to support Ulster Scots, and in 2008/09 had claimed £73,000 in expenses, which made him the most expensive peer that year.
Son of Norman, a GP, and Margaret, he was born in Belfast into a unionist family. He was educated at the Royal Belfast Academical Institution and then went into banking rather than to university, owing to his dyslexia. He was already chairman of the Young Unionist Council when his father died of a heart attack – Laird found his body – and Unionist grandees offered him the constituency, St Anne's, which included some of the toughest of Belfast's loyalist ghettoes. Rioting was breaking out over Unionist government attempts to end discrimination against Catholics.
In 1972, after the UK government suspended the Stormont government, Brian Faulkner, the last Unionist prime minister, triggered Laird's political involvement with the Ulster Scots heritage of those who were descended, as he was, from the Protestants settled in…